Fox News Declines to Condemn Racist Online Comments from Former Top Writer for Tucker Carlson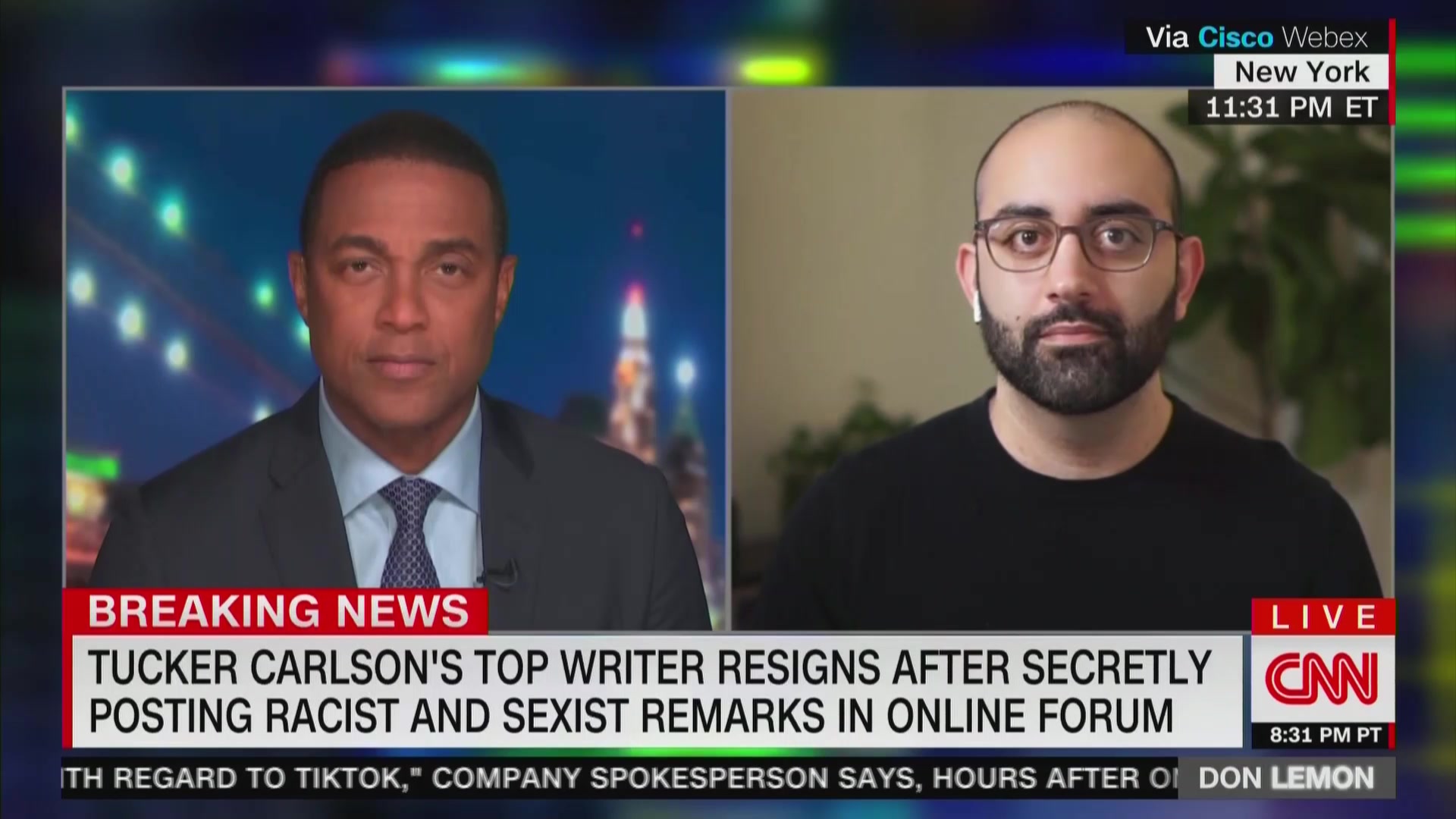 A head writer for Fox News' primetime show Tucker Carlson Tonight has resigned after it was revealed that he has been posting racist and bigoted comments on an online forum under a pseudonym.
CNN Business reported Friday that Blake Neff, over the course of five years, has also "maintained a lengthy thread in which he has derided a woman and posted information about her dating life that has invited other users to mock her and invade her privacy."
Neff had worked for Fox News for nearly four years. Before that, he was a reporter for The Daily Caller, the right-wing news outlet that Carlson co-founded in 2010. Carlson acknowledged Neff in his 2018 book, Ship of Fools, writing that he and two others who conducted research for it "work on and greatly improve our nightly show on Fox."

As for what Neff posted under the username 'CharlesXII' on the site AutoAdmit, CNN Business highlighted some examples from just the past few weeks. Neff
responded to a thread started by another user in 2018 with the subject line, "Would u let a JET BLACK congo n****er do lasik eye surgery on u for 50% off?" Neff wrote, "I wouldn't get LASIK from an Asian for free, so no." (The subject line was not censored on the forum.) On June 5, Neff wrote, "Black doods staying inside playing Call of Duty is probably one of the biggest factors keeping crime down." On June 24, Neff commented, "Honestly given how tired black people always claim to be, maybe the real crisis is their lack of sleep." On June 26, Neff wrote that the only people who care about changing the name of the NFL's Washington Redskins are "white libs and their university-'educated' pets."
In appearance on CNN Friday night, CNN senior media reporter Oliver Darcy explained how the script from Carlson's show is frequently boosted by President Trump. He also noted that Fox News did not come out with a statement condemning Neff's behavior, only telling CNN Business that he had resigned.
Watch the video above, via CNN.