Peter Navarro: Trump Slowing Down COVID Testing to Help His Ratings Was 'Tongue in Cheek'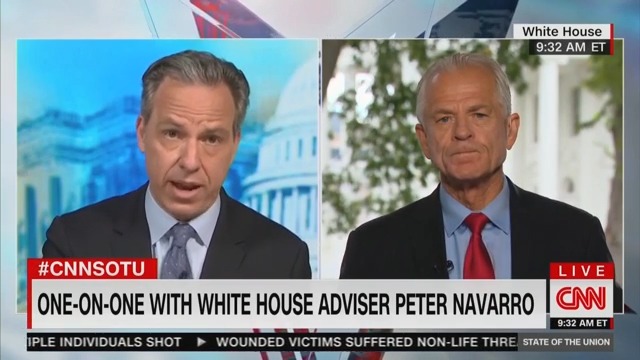 White House trade adviser Peter Navarro spun President Donald Trump's stunning admission that he wanted his administration to slow down coronavirus testing, saying on Sunday morning that the president's comments were clearly "tongue in cheek" and a light moment.
"Come on now, Jake. You know it was tongue in cheek," Navarro immediately exclaimed after Tapper played a clip of Trump's comments. "Come on now. That was tongue in cheek, please."
Tapper shot back, noting that he doesn't know that the president was joking since he has said similar things over the past several months. After the Trump aide attempted to deflect by saying he'd rather talk about a "serious issue," the CNN anchor explained that "testing is a very serious issue."
Read the rest of the piece at the Daily Beast.
Watch the clip above, via CCNN.