Navarro Says Coronavirus Is a 'Product of the Chinese Communist Party'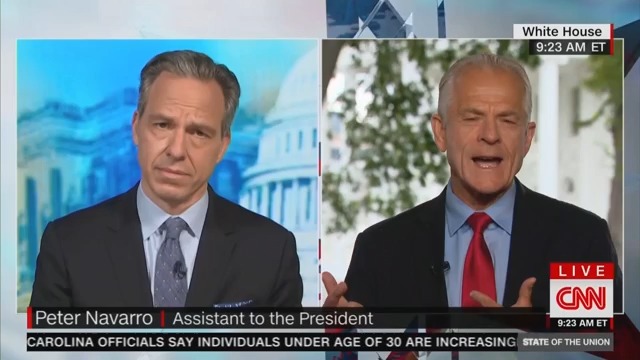 White House trade adviser Peter Navarro claimed Sunday that the coronavirus would not have become a global pandemic if it were not for China's Communist Party.
Navarro, appearing on CNN's State of the Union, said the party has done "tremendous damage" to the U.S. economy and Americans' well-being.
Jake Tapper pressed Navarro, asking, "Did I just hear you say China created the virus?"

"You did not hear me wrong," Navarro responded. "That virus was a product of the Chinese Communist Party, and until we get some information about what happened in those labs and in that wet market, we know that virus was spawned in China. That is what I mean."
When asked if he thought the coronavirus was "purposely created," Navarro declined to state an opinion, and instead referred to a 2006 book of his in which he predicted that China would "create a viral pandemic that could possibly kill millions."
Watch the video above, via CNN.