Dan Patrick: Grandparents Willing to Sacrifice Themselves to Save America for Their Grandkids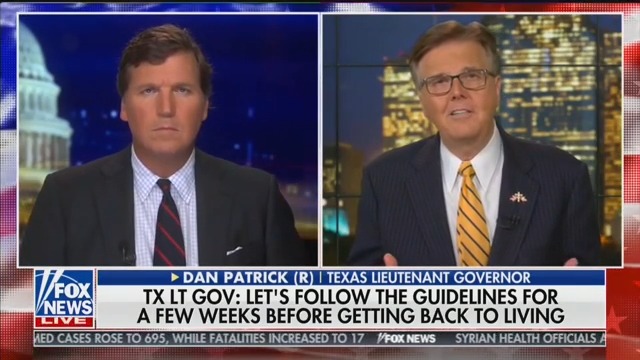 Piggybacking on President Donald Trump's desire to quickly end social distancing restrictions to fight the spread of coronavirus, Republican Texas Lieutenant Governor Dan Patrick suggested that senior citizens would be willing to sacrifice their lives in order to save the American economy for their kids and grandchildren.
Noting that he is 70 years old, Patrick went on to tell Carlson that while he is in the greatest risk pool for the virus he's not living in fear of COVID-19 but rather is fearful of "what's happening to the country."
"No one reached out to me and said as a senior citizen, 'Are you willing to take a chance on your survival in exchange for keeping the America that all America loves for your children and grandchildren?'" Patrick declared. "And if that is the exchange, I'm all in."
Read the rest of the piece at The Daily Beast.
Watch the clip above, via Fox News.