GOP Senator Sold Up to $1.5 Million in Stock While Receiving Coronavirus Briefings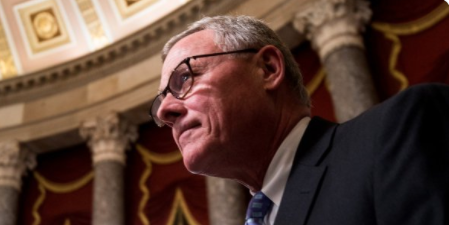 North Carolina Sen. Richard Burr privately warned donors several weeks ago about the societal and economic effects of the coronavirus on the United States while declining to state them publicly.
Burr, in an audio recording obtained by NPR, can be heard telling business leaders whose companies donated more than $100,000 to his campaign in 2015 and 2016 what President Trump and others in the federal government were not: that the virus would cause severe, long-lasting damage.
"There's one thing that I can tell you about this," the chairman of the Senate Intelligence Committee said. "It is much more aggressive in its transmission than anything that we have seen in recent history." Burr added, "It is probably more akin to the 1918 pandemic."
President Donald Trump, on the very same day, downplayed the issue to the public.
"It's going to disappear. One day, it's like a miracle. It will disappear," the president said, adding, "It could get worse before it gets better. It could maybe go away. We'll see what happens."
Burr warned those at the Capitol Hill Club about traveling to Europe thirteen days before the State Department issued public warnings. He also intimated that there would be school closures more than two weeks in advance. Military involvement was also a topic of discussion at the Feb. 27 luncheon.
Intelligence Chair Richard Burr's selloff came around the time he was receiving daily briefings on the health threat. https://t.co/PpqvrcKeP9

— ProPublica (@propublica) March 19, 2020
ProPublica reported Thursday that Burr sold between $582,029 and $1.56 million in stock on Feb. 13, when his committee was receiving regular briefings on the coronavirus. From the story:
[Burr's] biggest sales included companies that are among the most vulnerable to an economic slowdown. He dumped up to $150,000 worth of shares of Wyndham Hotels and Resorts, a chain based in the United States that has lost two-thirds of its value. And he sold up to $100,000 of shares of Extended Stay America, an economy hospitality chain. Shares of that company are now worth less than half of what they did at the time Burr sold.
Burr's mass sell-off, according to Senate records, amounted to his largest stock selling day since at least January 2019.