Bernie Appears to Distance Himself From Attacks on Biden's 'Cognitive Decline'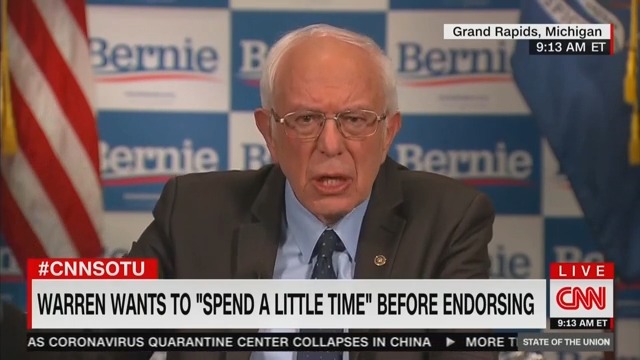 In the wake of many of his supporters and progressives openly questioning the cognitive capabilities of former Vice President Joe Biden, Democratic presidential candidate Sen. Bernie Sanders (I-VT) said on Sunday that he doesn't make "personal attacks" on Biden while waving off concerns that the ex-veep isn't "up to the task" of being president.
Appearing on CNN's State of the Union, the democratic-socialist Vermont senator was asked by anchor Jake Tapper about tweets his campaign staff sent over the weekend comparing Sanders' robust campaigning to Biden's lighter schedule.
"Bernie has three public events just today in two different states, each speaking engagement extending for close to an hour," Sanders campaign manager Faiz Shakir tweeted in response to a report that Biden spoke for just seven minutes at a Saturday rally in St. Louis.
Read the rest of the piece at The Daily Beast.
Watch the clip above, via CNN.