Biden Jabs Bernie After South Carolina Win: People Are Looking for 'Results,' Not 'Revolution'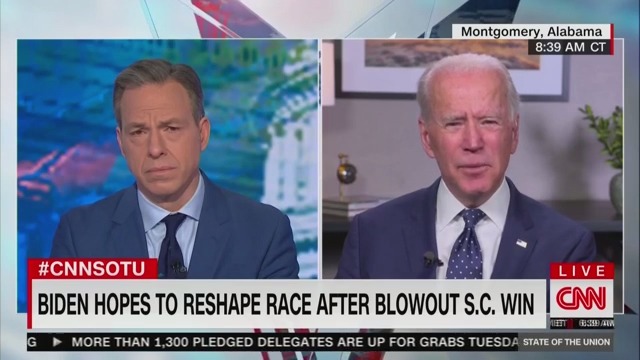 Democratic presidential candidate Joe Biden targeted rival Bernie Sanders following Saturday's South Carolina primary, which the former vice president won convincingly with more than twice as many votes as the runner-up Vermont senator.
Appearing on CNN's State of the Union, Biden made his pitch to voters in fourteen states who will head to the polls on Super Tuesday.
"People aren't looking for revolution, they're looking for results," Biden told Jake Tapper. "They're looking for who can not only beat Donald Trump, but who can keep a Democratic House of Representatives and who can bring along a Democratic Senate, and that means that you have to compete in almost every state from the top of the ticket."

When asked about whether there is a gap in enthusiasm between his supporters and those of Sanders, Biden downplayed his lack of support with young voters, adding that an energetic electorate isn't everything.
"I think that enthusiasm does not necessarily translate into votes," Biden said, noting the high turnout in South Carolina, which resulted in Biden thus far receiving more votes in this year's primary season than Sanders.
Watch the video above, via CNN.