Trump Administration 'Has Silenced the People We Can Trust,' Obama's Ebola Czar Says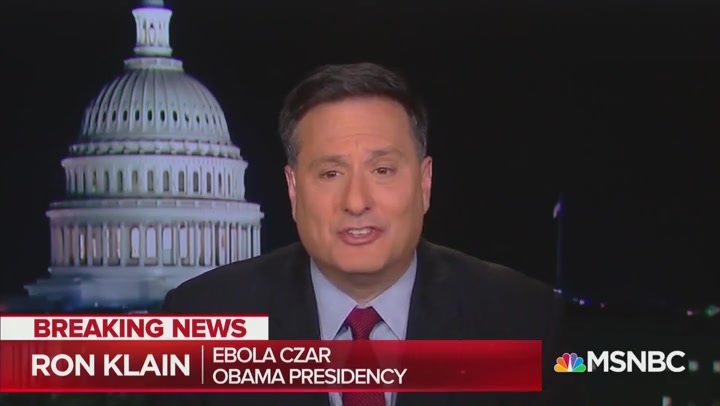 The Ebola czar during former President Barack Obama's administration took aim at President Donald Trump's handling of the coronavirus outbreak Friday as documented cases continue to spring up across the country.
Ron Klain, appearing on MSNBC's The Last Word, said the administration is suffering from a lack of trust among the general public.
"It's a crisis of both confidence and competence," Klain told Ali Velshi.
"Anyone at this point in time who believes what Donald Trump says kind of gets what they deserve at this stage in the game," Klain said. "But the problem is that the administration has silenced the people we can trust. Dr. Tony Fauci, the world's leading infectious disease doctor, who served seven presidents, Democrat and Republican, has been gagged by this administration. We're used to seeing him out front in this situation. He's been told he can't go on TV unless Mike Pence approves it. Same thing for other leaders at CDC. We can't trust our president and the people we can trust aren't being allowed to tell us the truth."
Klain was referring to a report in The New York Times stating that Dr. Fauci told associates that the White House "instructed him not to say anything else without clearance" following a Thursday meeting with Vice President Pence during which he outlined the seriousness of the virus.
At a South Carolina rally on the eve of that state's Democratic primary, the president accused Democrats and the media of sensationalizing coverage of the rapidly spreading virus, a point echoed by acting Chief of Staff Mick Mulvaney at CPAC, the Conservative Political Action Conference.
When asked about these comments, Klain pointed out how the lack of reliable information in China was what helped the virus to spread.
"One of the benefits of the First Amendment and our media in this country is that they're free to tell us what's going on." Klain said.
"Now, President Trump's strategy for the past two months has been to tweet out happy thoughts about it almost every other day: 'The virus won't be bad here. It's not really going to come here. I've got the borders sealed.' All kinds of other things," Klain continued.
"And those tweets didn't impress the virus, and they aren't going to save the American people. So what we need is accurate and truthful information through the news media from respected public health officials who communicate with us on a timely basis about what needs to be done, what is being done, what isn't being done, [and] not a bunch of political attacks for people telling the truth."
Watch the video above, via MSNBC.