Bernie Chastises Tapper for Asking About Comments He Made in 1974: You Want My '3rd Grade Essay' Too?!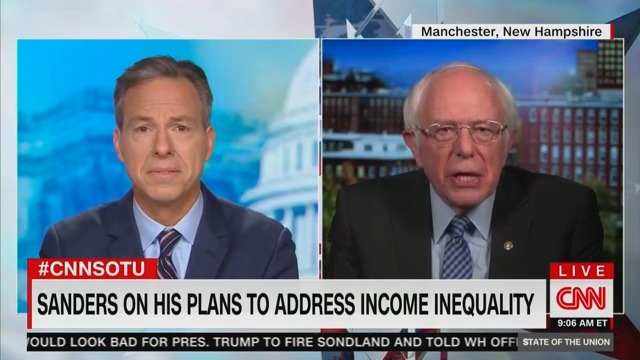 Democratic presidential candidate Sen. Bernie Sanders (I-VT) took issue on Sunday with CNN anchor Jake Tapper bringing up comments he made over 45 years ago, sarcastically asking if Tapper had also dug up his "third-grade essay" as well.
"Our investigative KFILE team found out that in 1974 you said it should be illegal to earn more money than someone could spend in his or her lifetime," the CNN host said. "You proposed a maximum wage cap on the highest earners."
"What year was that?" Sanders wondered as Tapper added that it was 45 years ago.
"Look, Jake, in all due respect, that was seven years before I was [elected mayor]," Sanders objected. "Did you go back to my third-grade essay when I was in PS 197 about what I said?!"
Read the rest of the piece at The Daily Beast.
Watch the clip above, via CNN.