Joni Ernst Struggles to Defend Trump on Ukraine: 'Probably Not Something I Would Have Done'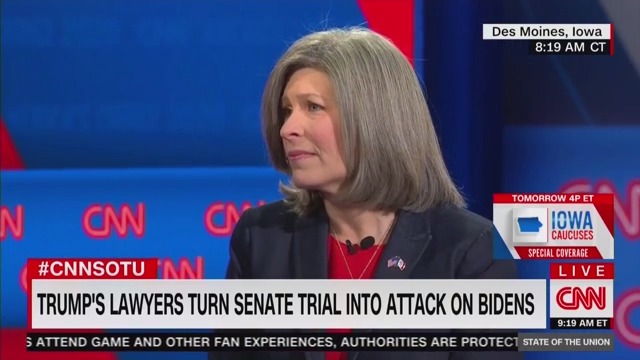 Sen. Joni Ernst (R-IA), who said she would vote to acquit President Donald Trump of both articles of impeachment, tried to strike a middle ground on Trump's actions toward Ukraine. Ernst said his conduct does not warrant his removal from office, but added that some of what he did could have been carried out differently.
"If he was tying it to the other things…it's probably something I wouldn't have done," Ernst told Jake Tapper on CNN's State of the Union when asked about Trump's decision to withhold military aid to Ukraine. "I think he could have done it through different channels."
Ernst joins Sen. Lamar Alexander (R-TN) and a few other GOP senators who have said Trump could have opted for other methods. Alexander said Sunday on Meet the Press that Trump perhaps did not know that the Department of Justice was a resource available to him should be want to actually combat corruption.
Ernst added that Trump's phone call with Ukrainian President Volodymyr Zelensky may not have been "perfect," as Trump has repeatedly claimed. However, Ernst said there was a general "corruption issue" in the nation and that Trump "honed in on it," despite him not mentioning the topic with his Ukrainian counterpart in the July phone call.
"The president has a lot of latitude to do what he wants to do" in this area, Ernst said, adding that she was not concerned that Trump may continue to seek foreign help in the upcoming election if acquitted.
Watch the video above, via CNN.