Trump Tells Rally Crowd He'd Do What Hunter Biden Did for 'Millions of Dollars'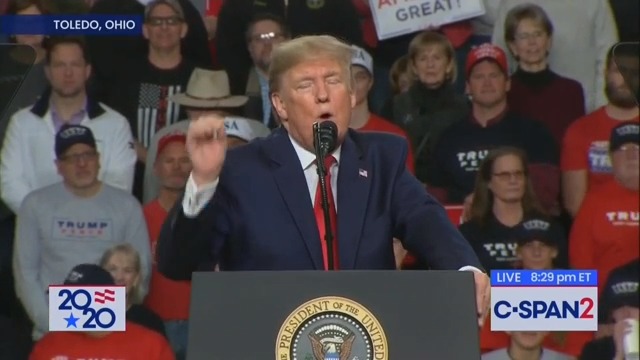 Midway through his campaign rally in Toledo, Ohio, on Thursday night, the president began running down his potential Democratic opponents in this year's election. When he got to Biden, he immediately turned his attention to Hunter, whose former employment at a Ukrainian gas company—and Trump's obsession with it—is at the center of Trump's impeachment.
"Where's Hunter?!" Trump exclaimed to cheers. "Here's a guy, made no money, got thrown out of the military forces, I think the Navy, got thrown out, had no job, had no nothing." 
"So he went from that to making millions of dollars a year as soon as Sleepy Joe became vice president, right?  He made millions of dollars a year, " he continued. "Would anybody in this room do that for millions? I would. We all would."
Read the rest of the piece at The Daily Beast.
Watch the clip above, via C-SPAN.