Schumer on Trump: 'The Very Things He Does He Accuses Others of Doing'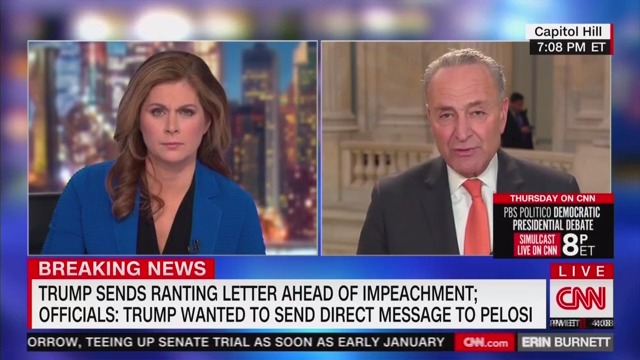 Senate Minority Leader Chuck Schumer (D-NY) assailed President Trump's letter to House Speaker Nancy Pelosi (D-CA) in which he ranted about how poorly he has supposedly been treated by the opposing party and how he has done nothing warranting impeachment.
Schumer, speaking on CNN's OutFront with Erin Burnett on the eve of the expected House vote on two articles of impeachment, said this was yet another example of the president's habit of projection.
"The amazing thing about President Trump [is that] the very things he does he accuses others of doing," the Senate's top Democrat explained. "This is the most bullying president we have ever had," he continued, adding that Trump "ought to look into the mirror."
In the six-page letter, Trump "cobbled together his greatest Twitter hits," as Washington Post critic Philip Bump points out. On page one, Trump addresses Democrats:
By proceeding with your invalid impeachment, you are violating your oaths of office, you are breaking your allegiance to the Constitution, and you are declaring open war on American Democracy. You dare to invoke the Founding Fathers in pursuit of this election-nullification scheme — yet your spiteful actions display unfettered contempt for America's founding and your egregious conduct threatens to destroy that which our Founders pledged their very lives to build.
When asked where Trump's head is at, Schumer said that he's "under a great deal of duress," and has therefore resorted to claiming that the Democrats are actually the ones interfering in the nation's elections, obstructing justice, and "bringing pain and suffering to our Republic for your own selfish, personal, political, and partisan gain."
Pelosi, Schumer maintains, will not be bullied by the letter.
Watch the video above, via CNN.