Rand Paul: Sending Money to Ukraine Damages National Security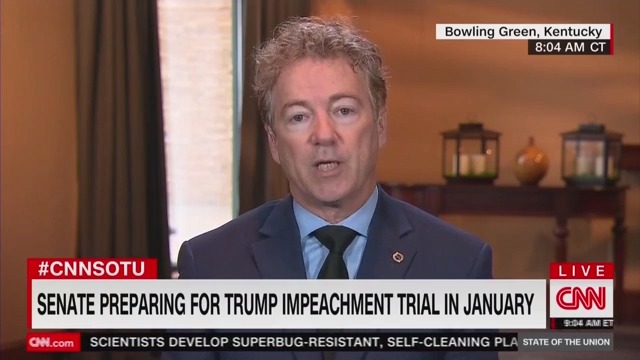 Sen. Rand Paul (R-KY) has an unorthodox view on the Trump-Ukraine scandal: that sending military aid to Ukraine is harmful to national security.
Paul, a skeptic of foreign entanglements, disagrees with the prevailing view of career non-partisan officials as explained before the House Intelligence Committee during the impeachment hearings that the freeze in aid to the nation earlier this year was detrimental to U.S. national security interests in the region.
"I interpret the Constitution that we should not be sending foreign aid to other countries; we should take care of what we were empowered to do in the Constitution and one is not borrowing money from China to send it to Ukraine," Paul told Jake Tapper on CNN's State of the Union.
"We shouldn't do it in the first place," Paul said, referring to foreign aid, "and I think the money we give to other countries damages our national security."
Paul reiterated the claim that President Trump was concerned about corruption in the nation even though he never mentioned the word in his July 25 phone call with his Ukrainian counterpart.
"Foreign aid has always been contingent upon behavior, and the money we gave him to give to Ukraine…it said in the law he has to certify they are less prone to corruption," Paul said.
Ukraine, a fledgling democracy currently fighting Russian aggression, is a key U.S. ally. For several weeks, nearly $400 million in vital military aid was held up, with witnesses testifying it was contingent on the mere announcement of an investigation into Joe Biden's son's work on the board of a Ukrainian natural gas company, suggesting that actually rooting out corruption was not a paramount concern.
Trump, as U.S. Embassy official David Holmes recalled EU Ambassador Gordon Sondland saying, only cares about "big stuff" that benefits him personally.
Watch the video above, via CNN.