Joe Scarborough: Why Doesn't the Sinclair Reporter Ask Trump if He Hates Jesus?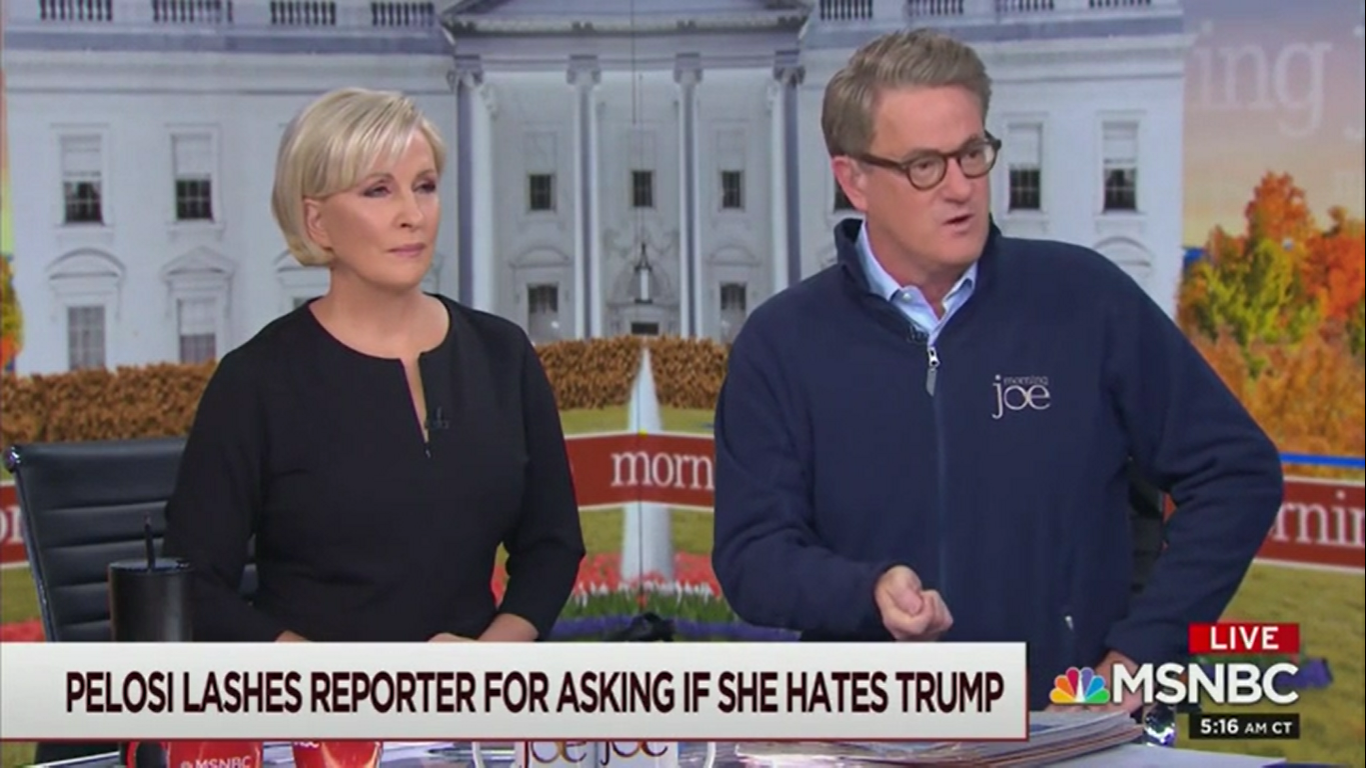 MNBC's Joe Scarborough was unimpressed with a reporter who asked Speaker of the House Nancy Pelosi if she hates President Donald Trump. James Rosen of pro-Trump Sinclair Broadcasting was rebuked by Pelosi in a viral moment after asking her the question on Thursday.
Scarborough had particular praise for Pelosi citing her faith as a Catholic in response to the accusation that she hated Trump.
"And what a contrast to the two dimensional left-wing coastal characters that Trumpists try to paint of Nancy Pelosi and other Democrats," Scarborough said.
"This is a woman who is, she's moved by faith. And by the way, her faith does not allow her do what so many Republicans faith allow them to do, turn a blind eye to little children dying in U.S. custody. Turn a blind eye to little children being locked up in cages."
"Turn a blind eye to an administration who actually set goals far harsher and far more extreme than what they actually managed to do in terms of ripping babies from mothers and locking them up in cages and letting them suffer, having what? 12, 13-year-old girls have to take care of 2-year-old babies because the Trump administration is so obscenely targeted babies and toddlers as a weapon in their plan to have a harsher…"
"And another child died in the U.S. custody," Scarborough said. "I wonder if maybe James Rosen would like to ask Donald Trump, or do you hate children or do you hate Jesus?"
"Do you not believe in the teachings of Jesus Christ?" he asked. "'Let the little children come'. Or if someone does something to one of these better that the the millstone is placed around their neck and they're drowned at the bottom of the ocean. Why doesn't James Rosen ask that question of Republicans? Do you hate children? Do you not follow the teachings of Jesus Christ?"
"It would be no less provocative than the offensive question that he asked yesterday."
Watch the video above, via MSNBC.