World Leaders Caught on Camera Apparently Mocking Donald Trump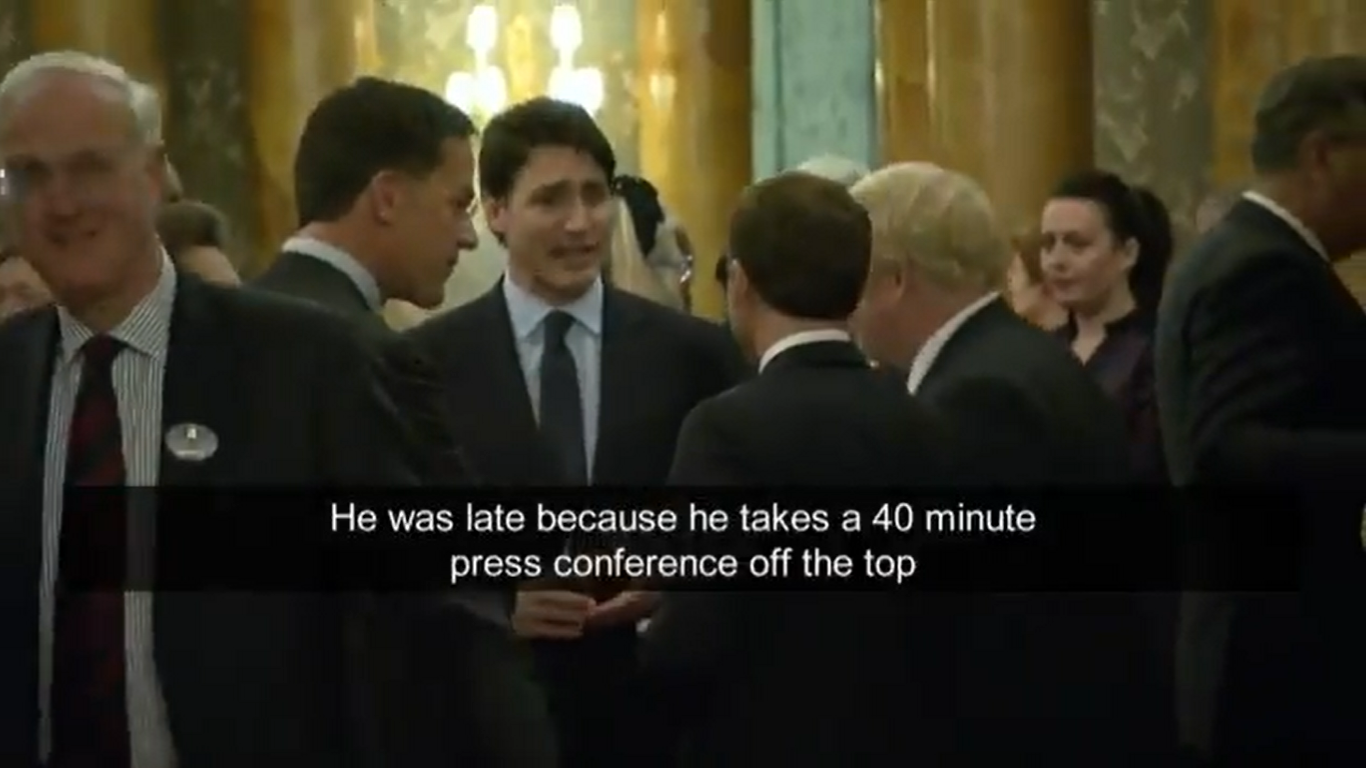 Several world leaders have been caught on camera appearing to mock President Donald Trump. During a reception at Buckingham Palace on Tuesday ahead of a NATO summit, four heads of government were recorded seemingly making jokes about Trump's behavior at press conferences earlier in the day.
British Prime Minister Boris Johnson asks French President Emmanuel Macron: "Is that why you were late?"
Canadian Prime Minister Justin Trudeau interrupts and says "He was late because he takes a 40-minute press conference off the top."
.@JustinTrudeau, @EmmanuelMacron, @BorisJohnson and other VIPs shared a few words at a Buckingham Palace reception Tuesday. No one mentions @realDonaldTrump by name, but they seem to be discussing his lengthy impromptu press conferences from earlier in the day. (Video: Host Pool) pic.twitter.com/dVgj48rpOP

— Power & Politics (@PnPCBC) December 3, 2019
Both Macron and Trudeau had press events with Trump where the President spoke at length, frequently rambling and telling lies. Though some of the recording is inaudible, Trudeau clearly says "Oh, yeah, yeah yeah. He announced…"
Macron speaks animatedly for a moment but what he says is also inaudible.
Later Trudeau adds: "You just watched his team's jaws drop to the floor."
The group Trudeau was speaking to also included Dutch Prime Minister Mark Rutte and the UK's Princess Anne, daughter of Queen Elizabeth II.
In a separate video posted on Twitter, Princess Anne apparently refuses to greet Trump and First Lady Melania Trump. When the Queen encourages her to do so, Anne shrugs it off.
The Queen chastising Princess Anne for not greeting Trump and Anne not giving a single shit is the mood we all need to take into today pic.twitter.com/W5cCFlq2Ui

— Hannah Jane Parkinson (@ladyhaja) December 4, 2019
Princess Anne's later conversation with Trudeau, Macron, Johnson and Rutte is especially interesting in light of her refusal to greet the Trumps. During the video with NATO leaders, Anne jumps into the conversation at one point, though what she says is inaudible.
Watch the videos above, via Twitter.