Fox News' Andy McCarthy: GOP Impeachment Witness Jonathan Turley Is 'Simply Wrong'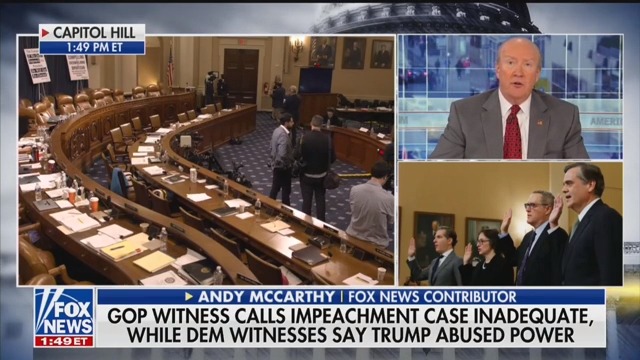 During a break in Wednesday's House Judiciary impeachment hearing, two Fox News analysts who have largely been on opposite sides of the fence on impeachment found themselves in agreement on one thing: GOP witness Jonathan Turley was "simply wrong" to argue that Congress was abusing its power by impeaching the president.
Fox News contributor Andy McCarthy, a former U.S attorney who has been a vocal critic of impeachment, backed up Napolitano's remarks.
"I happen to agree with the judge," McCarthy noted. "I do not think that to the extent that Jon Turley is taking the position that you either have to or should go to the court if you are Congress to enforce your subpoenas, I think that is simply wrong."
Read the rest of the piece at The Daily Beast.
Watch the clip above, via Fox News.