Ex-Pentagon Aide Guy Snodgrass Refuses to Deny or Admit to Fox That He's 'Anonymous'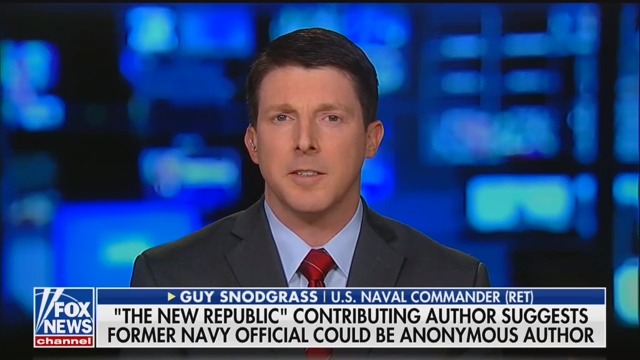 Former Pentagon aide Guy Snodgrass cagily refused to deny or admit that he was the infamous Resistance White House figure "Anonymous" during a Fox News interview on Monday, shortly after he was fingered as the most likely candidate.
"Great question," Snodgrass replied. "I have a book out with my name on it called Holding the Line. I do appreciate that the New Republic said the writing was excellent across both books, that's a great sales pitch. But I tell you what, if I was making an announcement like that, I'd do it right and come into the studio with you in New York City."
The Fox anchor immediately noted that Snodgrass wasn't issuing a denial but was instead just saying that this wasn't the proper venue to make that statement.
Snodgrass, with a wry smile, claimed he only just heard about the allegation before insisting he was on to talk about national security since there's a "lot to talk about there."
Read the rest of the piece at The Daily Beast.
Watch the clip above, via Fox News.