Fox News's Jesse Watters: 'If You Love Something, Do You Let Someone Pee on It?'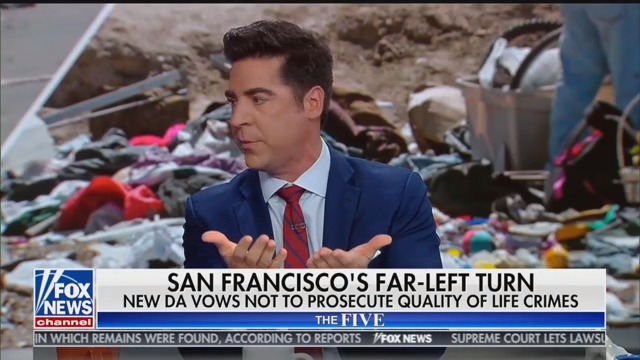 During a Tuesday afternoon Fox News discussion on the San Francisco district attorney vowing not to prosecute quality of life crimes amid a growing homelessness issue in the city, Fox News host Jesse Watters turned to his colleagues to ask a very serious question: "If you love something, do you let someone pee on it?"
"If you love something, do you let someone pee on it?" Watters wondered aloud. "Of course you don't! You protect that something you love from someone peeing on something, OK?"
"What?" Williams, clearly taken aback, replied.
The one-time Bill O'Reilly protege would then insist that "you obviously let someone pee on" something you hate, which he believes is what is going on with the new district attorney.
Read the rest of the piece at The Daily Beast.
Watch the clip above, via Fox News.