Veteran Explains to 'Fox & Friends' Why a Dog Shouldn't Get a Purple Heart: 'Army's a People Organization'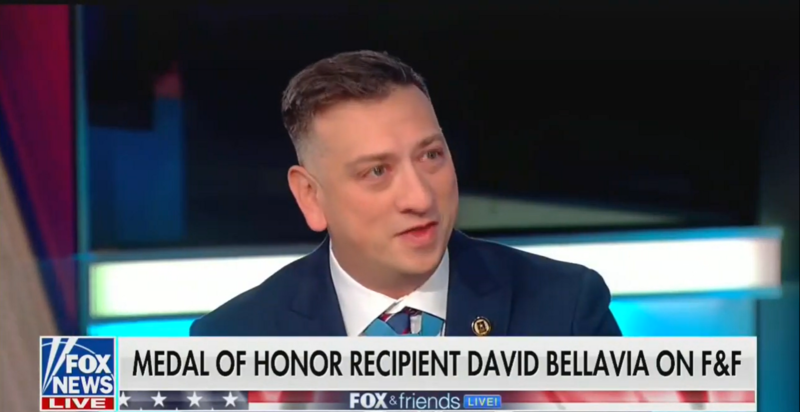 Fox & Friends hosted a special show for Veterans' Day on Monday featuring personnel from all branches of the military in the studio audience. The Fox News' hosts welcomed Medal of Honor recipient and former U.S. army soldier David Bellavia to talk about his experiences.
At one point, co-host Steve Doocy asked Bellavia about the dog involved in the raid that killed ISIS leader Abu Bakr al-Baghdadi. Several Fox personalities and guests have pushed for the dog to be given a Purple Heart because it was wounded in the raid. Bellavia gently explained why he thought that was a bad idea.
"Our dog handlers are incredible," Bellavia said. "Those dogs are huge assets. Army's a people organization. Right? Let's take care of people first, right? And when all these brave men and women have been given the valor awards that they earned, when we're taking care of our vets in the V.A, then we can focus on canaries, dolphins, dogs."
"We'll do all that afterwards. We're people first and then dogs second," Bellavia said, to silence from the audience.
"So in other words, not into it?" co-host Brian Kilmeade asked.
"I mean, look, the dog is — again, this is incredible tool. I'm not disrespecting anything those guys are doing but it still takes men and women at the tip of the spear."
"There are a lot of people that agree with you," co-host Ainsley Earhardt said, while Kilmeade looked distinctly unhappy. Fox & Friends has pushed for the unnamed dog to be awarded a Purple Heart.
Watch the video above, via Fox News.