Fox's Brian Kilmeade Jokes Mexicans Can 'Go Work in the Fields' if They Won't Fight Drug Cartels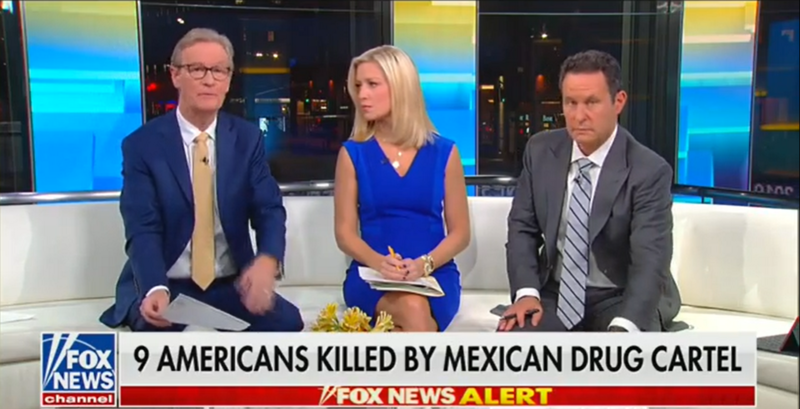 Fox News' Brian Kilmeade has joked that Mexicans will go work in fields rather than fight drug cartels. While discussing cartels in Mexico on Wednesday morning, the Fox & Friends host made the comment with little push back from his co-hosts.
Kilmeade mentioned that the Trump administration offered 'help' to Mexico in dealing with the cartels. Several Republicans and right-wing media figures in recent days have hinted at sending troops into Mexico – something the Mexican government would not welcome.
"Why wouldn't they want our help? We have a good relationship with them," co-host Ainsley Earhardt said.
"There's national pride, too,  and there's fear," Kilmeade said.
"[Mexican President] Obrador said, look, we already declared war on the cartels and it did not work. We need some other answer," co-host Steve Doocy said.
"Good luck with that," Kilmeade smirked.
"We already tried. We weren't successful so we don't need your help, America," Earhardt said.
"Let's go work in the fields," Kilmeade joked.
"Alright, just report the news," Doocy said, in what was almost a rebuke his colleague.
Kilmeade's comments are likely to be poorly received. Some social media users have already slammed them as racism.
love it when brian kilmeade starts the morning by doing a huge racism https://t.co/gEylxnEyGT

— Bobby Lewis (@revrrlewis) November 6, 2019
Watch the video above, via Fox News.