Wall Street Billionaire Leon Cooperman Cries On Air About Elizabeth Warren and Donald Trump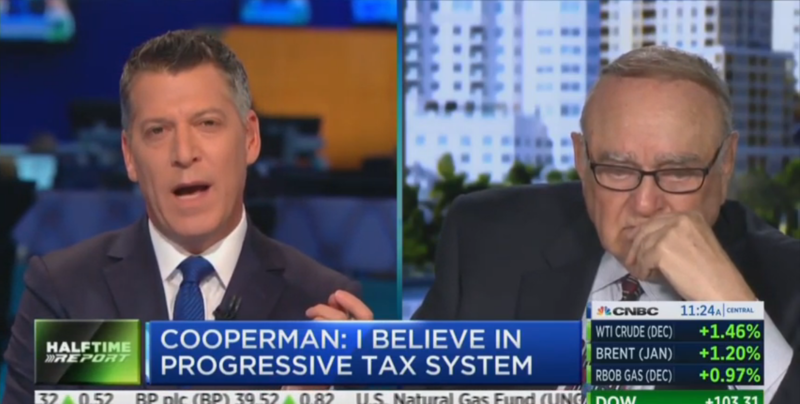 Wall Street billionaire Leon Cooperman shed tears live on air while discussing Senator Elizabeth Warren and President Donald Trump on Monday. Cooperman has been critical of Warren's plans to tax the wealthy and her attacks on billionaires. But he also worried about Trump's approach to the presidency.
"I care," the hedge fund manager told CNBC's Fast Money Halftime Report when he was asked why he appeared to gt so emotional. Cooperman spoke for some time about Waren and Trump and shed tears about the issues.
"I don't need Elizabeth Warren telling me that I'm a deadbeat and that billionaires are deadbeats. The vilification of billionaires makes no sense to me. The world is a substantially better place because of Bill Gates, Michael Bloomberg, David Rubenstein, Bernie Marcus, Ken Langone," he said.
"This is idiocy! It's appealing to the lowest common denominator and basically trying to turn people's heads around by promising a lot of free stuff," he said.
He also had criticism for President Trump, however.
"He has to become a president for the entire country and not just his base. So if I was him, if I'm not prepared to change my behavior, I would take a victory lap and not run again," he said.
Warren responded to Cooperman's tears on Twitter and she seemed unimpressed.
One thing I know he cares about—his fortune. He's a shareholder in Navient, a student loan company that has cheated borrowers and used abusive, misleading tactics. He even went so far as to ask how I might impact his investment in the last earnings call with Navient. https://t.co/77UU8vQE1G

— Elizabeth Warren (@ewarren) November 5, 2019
You can watch some of Cooperman's emotional reaction above, via CNBC.