Veteran on 'Fox & Friends' Offers His Purple Heart to Dog Injured in al-Baghdadi Raid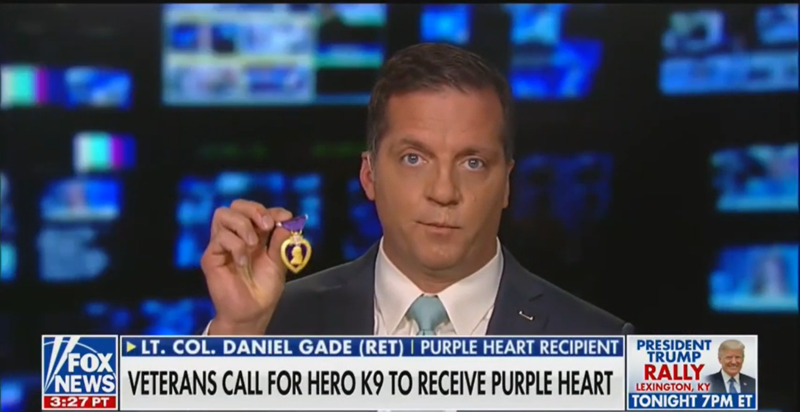 A panel of veteran on Fox & Friends argued on Monday that the dog involved in the raid that killed ISIS leader Abu Bakr al-Baghdadi should be awarded a Purple Heart – a decoration given to those wounded in the line of duty. The dog, whose name is classified, was injured during the raid.
Fox & Friends brought on three veterans, all of whom argued that the dog should receive a Purple Heart. Dogs are not eligible for such an award.
Lt. Colonel Daniel Gade, who is a Purple Heart recipient, spoke directly to President Donald Trump and said he would be willing to give up one of his Purple Hearts and give it to the dog.
"I do have a message for the President," Gade said. "Mr. President, if you're watching this morning, I've brought one of my own Purple Hearts to present to the dog if you'd like me to do so or if you'd like me to give this to you, I can."
"These dogs are heroic. They are part of a heroic mission. So, absolutely, if they're wounded in action I think it's totally fine to present a Purple Heart and you know the handler will have that as something that he can have forever."
"The dog obviously doesn't care. But they are a heroic part of the team and we should honor them for sure."
Watch the video above, via Fox News.