'Fox & Friends' Assures Viewers It's 'Totally False' That Trump and Melania Are 'Estranged'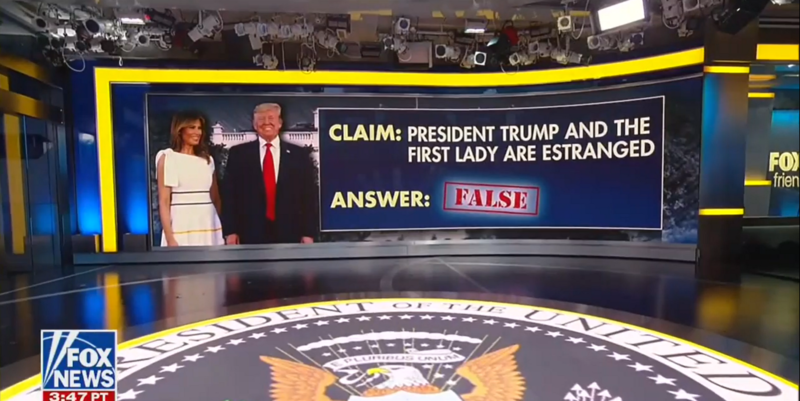 The President's favorite morning show has assured its viewers that he is not estranged from his wife. Fox & Friends hosted Doug Wead to debunk what they called false stories about President Donald Trump.  Wead was promoting a book he's written about the Trump White House.
The most eye-catching of the 'anonymous stories' was that Trump and his wife Melania were having marital problems.
"So let's go through some things that we've heard and you tell us whether they're true or not. For instance, one thing out there is that the President and First Lady are estranged. True or false?" host Steve Doocy said.
"Totally false," Wead said.
"Where did that come from?" Doocy asked.
"They are a couple. She's so dignified and she handles herself with such grace. In every conversation he brings up Melania. Melania this, Melania that," Wead said.
"There's a story in the book where she is under attack for no other reason than just pure jealousy and she's hurt and they're having dinner together with the family and President playfully with puffed up importance says Melania, honey, I bet you are really glad I took you on this adventure, you're First Lady and she says oh yeah, thank you very, very much."
"And there's another scene in the book where the Secret Service sits her down to explain to her that her husband's going to go into a combat zone to address the troops. She says I'm going. They say, oh no, only twice in American history has a First Lady gone into combat zone."
Wead went on to say that the First Lady wanted to 'share the danger' of traveling to a combat zone with Trump.
Watch the video above, via Fox News.