Fox's Geraldo Rivera: 'Grotesquely Unfair' Impeachment Will Lead to 'Kind of Tea Party Uprising'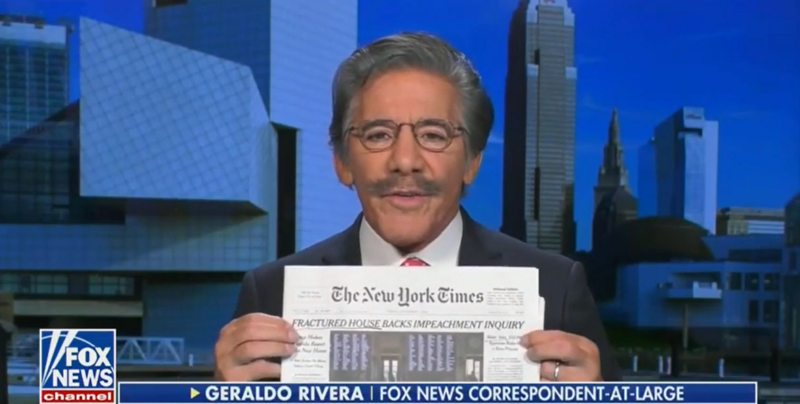 Fox News' Geraldo Rivera has claimed that impeaching President Donald Trump will help Republicans in upcoming elections. In what is fast becoming a new talking point, Rivera told Fox & Friends on Friday that an 'unfair' impeachment process would make voters turn to the GOP.
Rivera was asked whether he thought the impeachment process was fair and answered predictably.
"It's grotesquely unfair and divisive. Even the New York Times got it right. Fractured house, bitter vote. This is absolutely the way this went down yesterday."
"The Speaker of the House, the Democrats, have crafted an impeachment which is inherently divisive and made it so very unfair as to enrage Republicans and other fair-minded people. You cannot have a process wherein the Speaker, running the event, gets to say the other side what witnesses they can call, and has veto power over those witnesses and over any kind of subpoenas."
"For instance, if they wanted to call Chairman Schiff to ask him about his relationship with the so-called whistleblower, they could object to that. They could object to any witness they wanted, the Democrats can, and curtail the Republican presentation, frustrate them."
"It is so deeply and fundamentally unfair. I predict it will lead to the kind of Tea Party uprising we saw in 2009 and 2010. It will divide this country along partisan lines in a way we have heretofore never seen. And I do not believe it will result in justice."
House Democrats are following rules laid down by the Republican majority in 2015. It's also worth noting that impeachment has not historically benefited the President's party.
Watch the video above, via Fox News.