CNN's Jeffrey Toobin: White House Editing Ukraine Transcript Shows 'Consciousness of Guilt'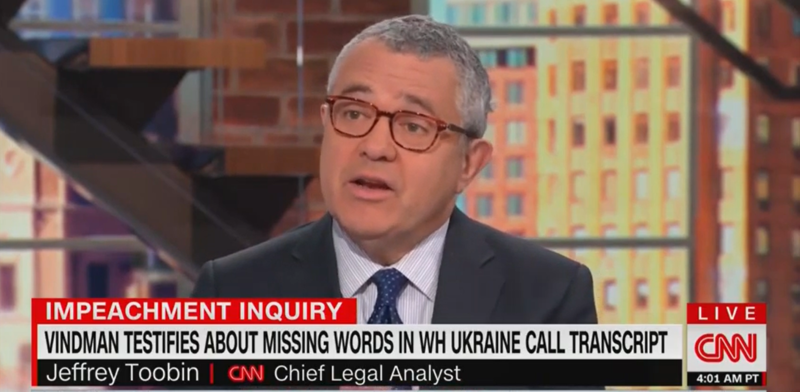 CNN' legal analyst Jeffrey Toobin has said that the White House editing the transcript of President Donald Trump's Ukraine call could indicated that officials knew they had done something wrong. Toobin was referring to the testimony of Lt. Colonel Alexander Vindman.
Vindman testified in the impeachment probe on Tuesday that there were omissions in the transcript of the call. Vindman was listening on the call and tried to get the excised portions added to the transcript before it was released to the public.
"What makes Vindman's testimony in this area explosive is that there was an effort to censor politically explosive things, that people involved in the preparation of this transcript had, in effect, a consciousness of guilt," Toobin said.
"They knew that this was politically explosive, damaging material and they schemed to keep it out. Who did that and at whose direction is, of course, a mystery."
Trump has repeatedly pointed to the transcript in an effort to exonerate himself from accusations that he pressured Ukraine to investigate former Vice President Joe Biden. However, the transcript raised serious concerns that he had done just that.
Vindman's testimony has added to the President's problems. If the transcript does not accurately reflect the conversation, Trump and his defenders will find it increasingly difficult to use it as a shield from criticism – a tactic that has been failing in any case.
Watch the video above, via CNN.