Fox Hosts Clash Over Priest Who Denied Joe Biden Holy Communion: 'Very Judgmental'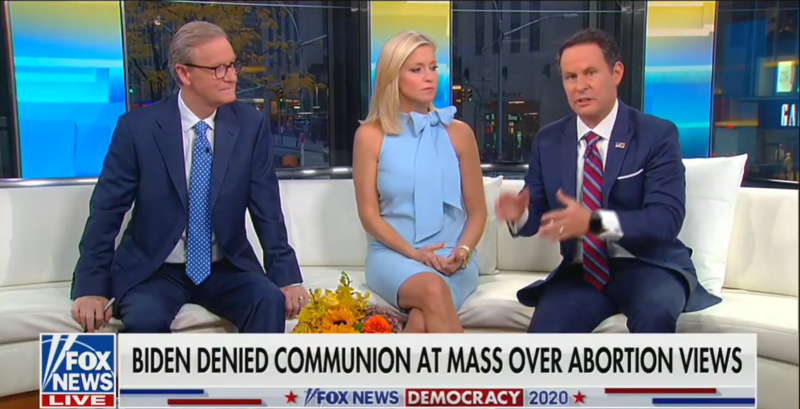 The hosts of Fox & Friends had a minor argument on Tuesday about a Catholic who denied Holy Communion to former Vice President Joe Biden because of his views on abortion. Brian Kilmeade was particularly unhappy with the priest's decision.
"That is huge," Kilmeade said. "I just find that an extremely negative thing. If everybody on line to get communion has to live up to all the principles of Catholicism…"
"That's the idea," Steve Doocy said.
"As a Catholic then there'll be two or three people on line every weekend," Kilmeade said. "Everyone else on line to get communion is hitting it out of the park every day, batting a thousand?"
Both Doocy and Kilmeade are Roman Catholic but co-host Ainsley Earhardt, who is not, offered a robust defense of the priest's position.
"I agree with you. I understand what you're saying. I go to a church where if you believe in Christ, if you are christened as a child or baptized then can you get communion," she said. "I do understand what you are saying that God would welcome anyone and say but the rules are the rules and this is very — the Catholic Church is strict about this."
Earhardt then casually suggested Biden could simply leave the Catholic Church.
"If he doesn't want to abide by the church teachings then maybe choose a different denomination or something, or a church that you can go to where the priest will allow you to" she said.
"I think that's very judgmental," Kilmeade said. "And I think if you're going to enforce that, there are so many other rules to enforce in the Catholic religion and they should walk around and tell people who aren't famous or a political figure that you should get off the line because did this, or you this, you should get off the line, too. Don't you try to get communion because you missed church on Sunday."
Watch the video above, via Fox News.