Fox Panel Suggests Trump Impeachment Witness Alexander Vindman Committed 'Espionage'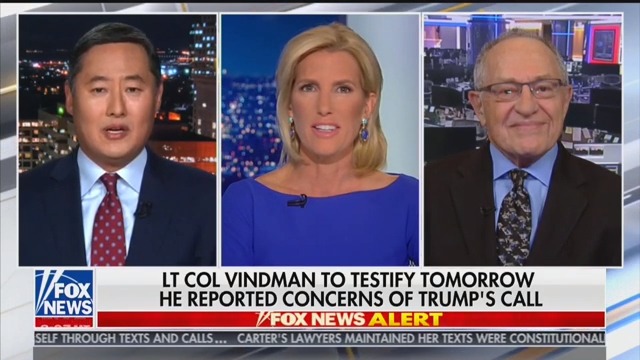 Fox News host Laura Ingraham and two of her guests Monday night suggested that White House national security official Alexander Vindman, who is set to testify before Congress that he heard President Trump press his Ukrainian counterpart to investigate his political opponents, is guilty of "espionage" and could be a Ukrainian double agent.
"Now, wait a second, John," Ingraham continued, addressing Yoo. "Here we have a U.S. national security official who is advising Ukraine, while working inside the White House, apparently against the president's interest, and usually, they spoke in English. Isn't that kind of an interesting angle on this story?!"
"You know, some people might call that espionage," the former Bush Administration official claimed.
Read the rest of the piece at The Daily Beast.
Watch the clip above, via Fox News.