ISIS Leader Abu Bakr al-Baghdadi Killed in U.S. Military Operation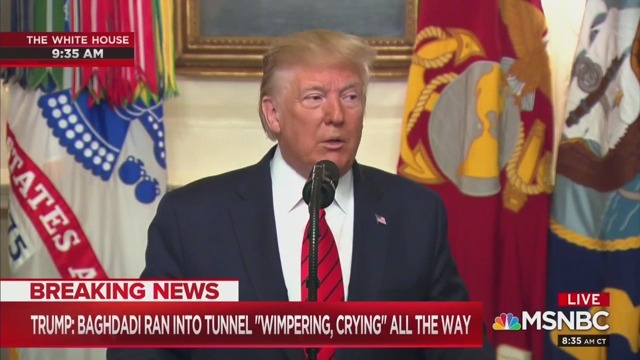 U.S. Special Forces launched an operation that killed ISIS leader Abu Bakr al-Baghdadi, officials said late Saturday and which President Trump confirmed Sunday morning.
The raid occurred in northwest Syria's Idlib province after a prolonged U.S.-led campaign to locate Baghdadi. The CIA had a role in finding the military leader, CNN reported, and a number of U.S. allies in the region said they were involved in intelligence gathering prior to the mission.
No U.S. forces were harmed in the endeavor, Trump said.
One official told the Washington Post that an individual believed to be Baghdadi may have killed himself by detonating a vest filled with explosives. Trump confirmed this detail, adding that U.S. forces were able to acquire documents and materials from the leader's compound.
NBC News reported that ISIS resisted the raid by deploying at least one vehicle bomb that was later taken out by a U.S. airstrike.
The operation, which required the president's approval, follows Trump's withdrawal of U.S. troops from northern Syria, a decision that drew immediate bipartisan condemnation.
"Something very big has just happened!," Trump wrote on Twitter Saturday night, leading to rampant speculation.
Newsweek, citing an unnamed U.S. Army source, first reported the elusive military leader's death.
Iranian officials told Reuters overnight that they had been informed the result of the strike by Syrian officials "who got it from the field."
Baghdadi had been presumed dead multiple times before.
Watch the video above, via MSNBC.