Matt Gaetz Is Still Mad at Being Called a White Man, Quotes Lady Gaga: 'I Was Born This Way'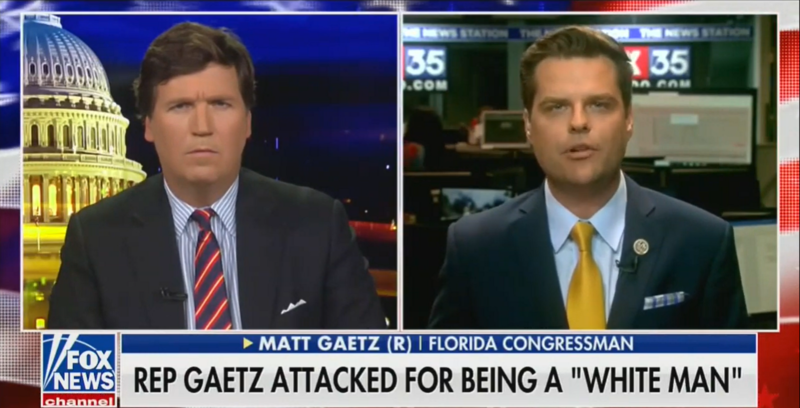 Republican Representative Matt Gaetz is still angry that people called him a white male following House Republicans' storming of the SCIF earlier this week. After appearing on MSNBC on Thursday morning to express how 'sickening' it was to be referred to by his race, Gaetz spoke to Fox News' Tucker Carlson on Thursday night about it.
"I was really taken aback at the way that NBC News would choose to have a discussion about impeachment or transparency or Syria would be initially to try to put me on defense," Gaetz told a sympathetic Carlson.
"I'm a white male, I guess I'm a little old fashion. Identify as a white male because I am a white male and to use language the left is familiar with, I guess it's because I was born this way."
Gaetz was quoting from the song 'Born This Way' by Lady Gaga. The song has become something an an anthem for the LGBT community, while the phrase has been adopted as an affirmation of LGBT identity.
He went on to say that he'd been shocked by the use of language, having earlier attacked Democratic Rep. Jackie Speier for calling him a white man.
"I was flabbergasted," Gaetz said. "I said it was offensive and it's not reflective of a substantive interview and I tried to get you what is the important substance because the risk is that if we take the bait to always be discussing identity rather than the work the President's doing or frankly the work we're doing to try to have more openness in this impeachment process, than the left wins."
Watch the video above, via Fox News.