'Fox & Friends' Hope Tulsi Gabbard Makes the Next Democratic Debate: Attack on Clinton 'Made Her Look So Good'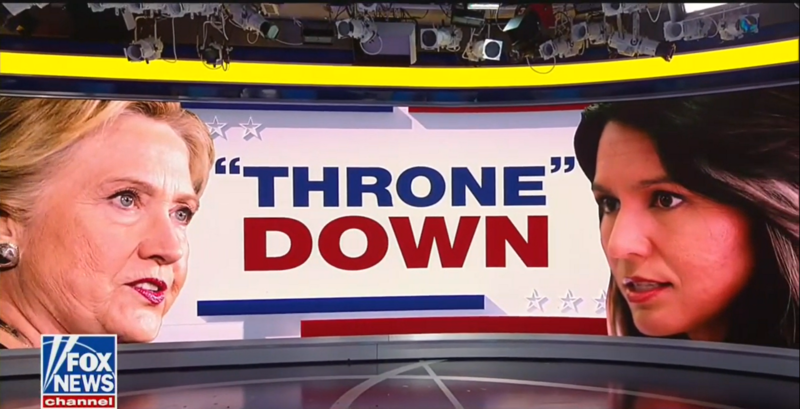 The hosts of Fox & Friends continued their praise of Democratic Representative Tulsi Gabbard on Wednesday. The Fox News anchors expressed their hope that Gabbard's feud with former presidential candidate Hillary Clinton would see her poll numbers rise.
Co-host Steve Doocy introduced a clip from Gabbard's recent video attacking Clinton.
"Keep in mind there was a couple of days ago that former First Lady Hillary Rodham Clinton said that that woman, screen right, was a Russian asset, essentially, favorite of the Russians and Russians were grooming her to be a third party spoiler candidate in 2020," Doocy said.
"Tulsi is hitting Hillary and hitting her hard."
"They were both supposed to be at the same place and Hillary Clinton canceled and by the way Tulsi Gabbard said 'I would have been very happy to have had that conversation directly with her face to face,'" Brian Kilmeade said.
"And as a major in the military, who volunteered to go to the Middle East, I sense that she means it."
"Yeah. She served in the Iraq War," Ainsley Earhardt said. "I think to your point yesterday, Brian, you were saying, I think it was yesterday or the day before, you were said that this is actually putting her on the map."
"Huge," Kimeade agreed.
"When she had that message for Hillary made her look so good and I think she's running with this, she's taking advantage of it," Earhardt said.
"She is not qualified yet for the next debate. Hope this puts her over the top because she always makes it interesting," Kilmeade said.
Watch the video above, via Fox News.