Pompeo Claims He "Never Saw" Ukraine Aid Linked to Political Investigations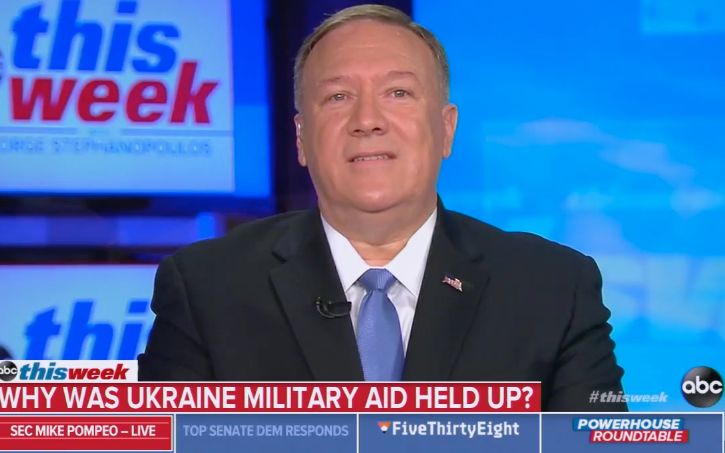 Mike Pompeo says he "never saw" the suspension of military aid to Ukraine as dependent on investigations of President Trump's political rivals.
The secretary of state told George Stephanopoulos on ABC's This Week that he's "not going to get into hypotheticals" when asked if it's appropriate to link the two.
"Except it's not a hypothetical," Stephanopoulos shot back. "The chief of staff said it did," he added, referring to Mick Mulvaney's admission at a Thursday press conference, which he later tried to walk back.
JUST IN: "I never saw that in the decision-making process that I was a part of," Sec. Mike Pompeo tells @GStephanopoulos when asked about Mick Mulvaney's initial comments that Ukraine aid was in part conditioned on political investigation of the Democrats https://t.co/GDovOJ7FH7 pic.twitter.com/SIDiIDIdWs

— This Week (@ThisWeekABC) October 20, 2019
Pompeo has defied a subpoena from House committees investigating the role of Rudy Giuliani, Trump's personal attorney, in orchestrating a shadow foreign policy toward the country. Pompeo refused to discuss this, citing internal deliberations policy, even though Giuliani does not work for the administration.
Pompeo also said he would not "get into personnel matters inside the State Department" when asked about the removal of former U.S. Ambassador to Ukraine Marie Yovanovitch.