Nancy Pelosi: Elijah Cummings 'Lived the American Dream and He Wanted it for Everyone Else'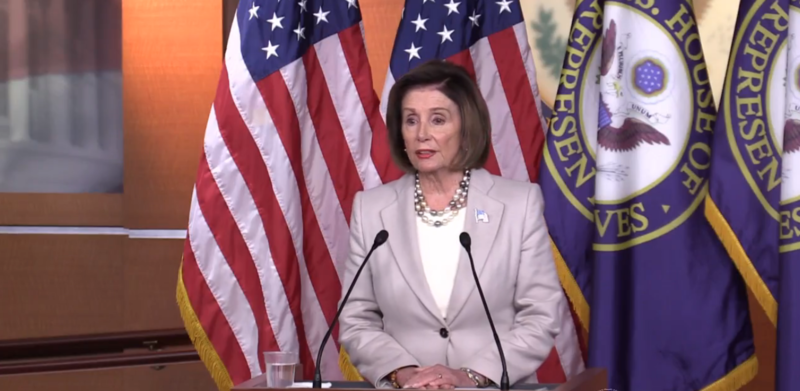 Speaker of the House Nancy Pelosi has paid tribute to the late Congressman Elijah Cummings. Speaking at a press briefing, Pelosi praised the veteran Democrat, who passed away at Johns Hopkins Hospital last night at the age of 68. He was a major figure in the party.
"I'm devastated by the loss," Pelosi said, calling Cummings her 'brother in Baltimore'. She called in a 'dear friend' and a 'revered and respected colleague'.
"He lived the American dream and he wanted it for everyone else," she said.
"In Congress, Elijah was considered a North Star."
I am speaking with reporters live from the U.S. Capitol as the Congress mourns the loss of @OversightDems Chairman Elijah Cummings. https://t.co/5VvDKV6pq8

— Nancy Pelosi (@SpeakerPelosi) October 17, 2019
"He was a leader of towering character and integrity, whose stirring voice and steadfast values pushed the Congress and country to rise always to a higher purpose."
Pelosi went on to discuss the issues surrounding Syria and President Donald Trump, but tributes have poured in for Cummings all day, including from the President's twitter account.
Sadness at Cummings' death crossed the partisan divide, with Democrats, Republicans and others expressing their respect and admiration for him, including now independent conservative Justin Amash.
I am deeply saddened to learn of the passing of Chairman Elijah Cummings. He was kind, gracious, and thoughtful, and he served the people of his community with dignity and honor. I pray for his family, friends, and his office and @OversightDems staff. May his memory be eternal.

— Justin Amash (@justinamash) October 17, 2019
At the other end of the political spectrum, Democratic presidential candidate Bernie Sanders lamented the loss of Cummings' 'integrity and moral vision.'
It was my honor to work closely with Rep. Elijah Cummings over the years. His integrity and moral vision for his community and the country were extraordinary. He will be sorely missed. Jane and I are deeply saddened by the loss of our friend. Our thoughts are with his family.

— Bernie Sanders (@BernieSanders) October 17, 2019
Cummings represented Baltimore in Congress for 23 years and was a passionate campaigner for civil rights.