Laura Ingraham Blames Mick Mulvaney's Disastrous Presser on Him Not Being a Lawyer (Except He Is!)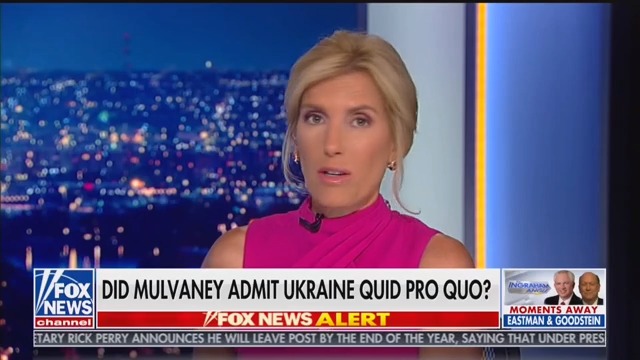 Hours after "acting" White House Chief of Staff Mick Mulvaney held a disastrous press briefing in which he acknowledged a quid pro quo with Ukraine and admitted politics were influencing President Donald Trump's foreign policy decisions, Fox News host Laura Ingraham tried to blame Mulvaney's performance on the fact that he isn't a lawyer.
There's just one little problem with Ingraham's theory: Mulvaney IS a lawyer.
"Look, I got to say, we're all lawyers here," she stated. "There's a reason [Attorney General] Bill Barr doesn't do a lot of press conferences, but he would know how to answer those questions. I'm not piling on Mulvaney, I don't want to do that. I don't think that's helpful."
Laura Ingraham blames Mick Mulvaney's disastrous press conference today on the fact that he's not a lawyer.

Actually, Mulvaney received his JD from UNC Chapel Hill in 1992 pic.twitter.com/B7QyjrOv5c

— Jason Campbell (@JasonSCampbell) October 18, 2019