Today Show Hosts Respond to 'Appallingly Horrific' Matt Lauer Rape Allegations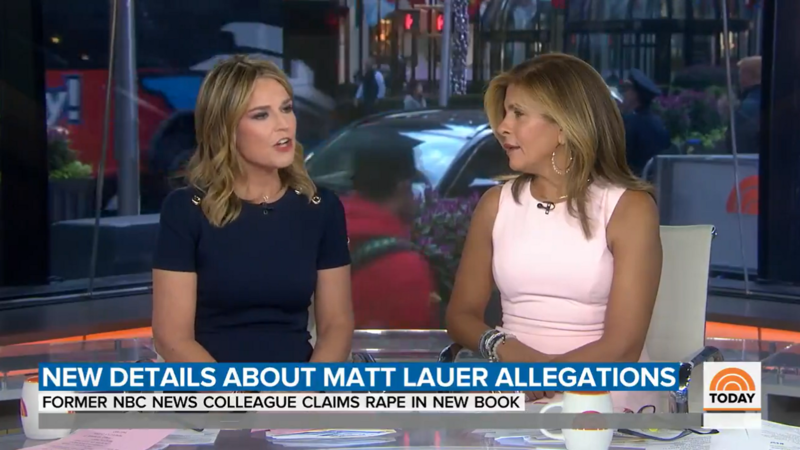 Today show hosts Savanah Guthrie and Hoda Kotb addressed allegations against their former NBC colleague Matt Lauer on Wednesday. Lauer has been accused of raping a female former NBC employee in a new book by Ronan Farrow.
Farrow's book, Catch and Kill, describes how Lauer allegedly raped NBC employee Brooke Nevils following drinks with Meredith Vieira during the Sochi Olympics. Nevils says Lauer invited her back to his room where he made physical advances on her and eventually raped her.
On Wednesday's Today show, reporter Morgan Radford said that NBC had reached out to Lauer for comment but he had not responded. She then read a statement from NBC that described Lauer's behavior as 'appalling horrific and reprehensible.'
.@savannahguthrie and @hodakotb respond to new allegations about Matt Lauer pic.twitter.com/HsngSZd1NA

— TODAY (@TODAYshow) October 9, 2019
"We feel like we owe it to our viewers to pause for a moment," Guthrie said. Calling the allegations 'shocking and appalling,' Guthrie said: "I honestly don't even know what to say about it."
"We support her and any women who come forward with claims," Guthrie said.
Kotb noted the 'weird moment that we were sitting here just like this two years ago' and said 'we don't know all the facts in this,'
"But there are not allegations of an affair, there are allegations of a crime, and I think that's shocking to all of us here who have sat with Matt for many many years," Kotb said.
Watch the Today show's response above, via Twitter.
UPDATE
Following the Today show coverage of the new allegations, Matt Lauer issued a statement claiming that all the women who have accused him of rape were in consensual relationships with him.
What now? pic.twitter.com/efBlhqXwMc

— Rebecca Traister (@rtraister) October 9, 2019
Lauer refuted the specific allegations made by Brooke Nevils and claimed that all the women accusing him were lying.
"For two years, the women with whom I had extramarital relationships have abandoned shared responsibility, and instead, shielded themselves from blame behind false allegations," the statement said.
"They have avoided having to look a boyfriend, husband, or a child in the eye and say, 'I cheated.' They have done enormous damage in the process. And I will no longer provide them the shelter of my silence."