FLASHBACK: Trey Gowdy Raged in 2012 that White House Must Hand Over Documents and Show 'Respect for the Rule of Law'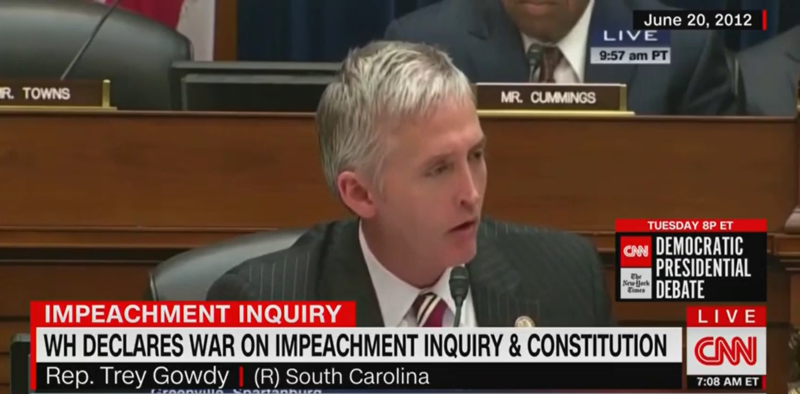 Trey Gowdy once raged against the White House for withholding documents and information from Congress. The former Republican congressman has reportedly been hired to act as outside counsel for President Donald Trump in the ongoing impeachment inquiry.
Gowdy has been hired just as the Trump administration is ordering officials not to testify before Congress and withholding documents. Indeed, the White House declared on Tuesday that it would not co-operate with the inquiry in any way.
On CNN on Wednesday, host John Berman and Alisyn Camerota pointed out that Gowdy once denounced the Obama administration for apparently holding back documents and information in a similar way to what Trump is trying to do now.
Berman showed footage from 2012 where Gowdy was clearly angry at the administration's failure to hand over requested information.
"The notion that you can withhold information and documents from Congress no matter whether you're the party in power or not in power is wrong," Gowdy said.
"Respect for the rule of law must mean something irrespective of the vicissitudes of political cycles," he said.
CNN's New Day showed the clip to various guests throughout the day, with political analyst Maggie Haberman saying: "There is a wealth of quotes saying the opposite thing of what they are saying now about impeachment."