House Minority Leader Kevin McCarthy: 'Democrats in Congress Do Not Believe in the Rule of Law'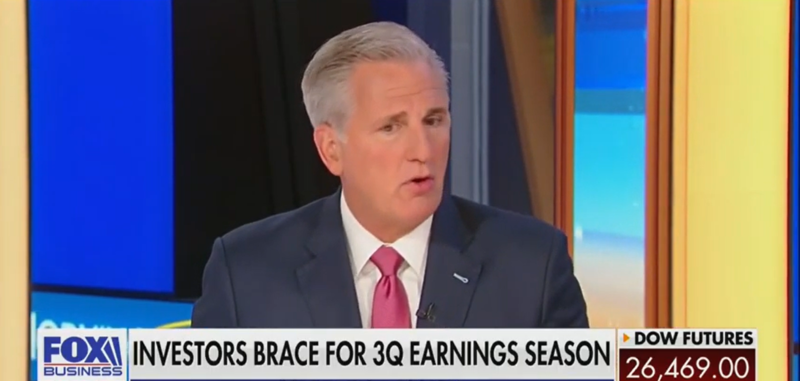 House Minority Leader Kevin McCarthy continued his rhetoric against Democrats on Monday, once again accusing them of an attempted coup against President Donald Trump. Speaking to Fox Business' Maria Bartiromo, the California Republican returned to talking points about Ukraine and the 2016 election.
"So do you believe the President will be pushed out of office?" Bartiromo asked.
"No. Because — and I read about this second whistleblower, you and I have more knowledge than the first whistleblower," McCarthy bizarrely suggested.
"We have transcripts," Bartiromo said.
"Exactly, so what more came out?" McCarthy said. "There's nothing in that phone call that is impeachable, or that he did wrong, every day we work with other countries, to solve cases."
"There is an open case about what happened with this Russia coup they wanted to try do do in America — the Attorney General has an open case about it, the world knows about it. A lot of that started in Ukraine and they're trying to find the information about it."
McCarthy was asked about Attorney General William Barr's investigation, which has been criticized for pursuing conspiracy theories.
"I respect the man greatly. He believes in rule of law, he's gonna follow it," McCarthy said. "Unfortunately, the Democrats in Congress do not believe in the rule of law."
"They are trying to discredit democracy. Think about what they're doing. They're gonna tear the fabric of America apart. Remove a president? With no basis. If the Speaker of the House Nancy Pelosi had waited 48 hours had that transcript we would not be in this nightmare we are today."
Watch the video above, via Fox Business.