Watch: 'Fox & Friends' Fail to Get Dr. Oz to Say Something Bad About Bernie Sanders' Health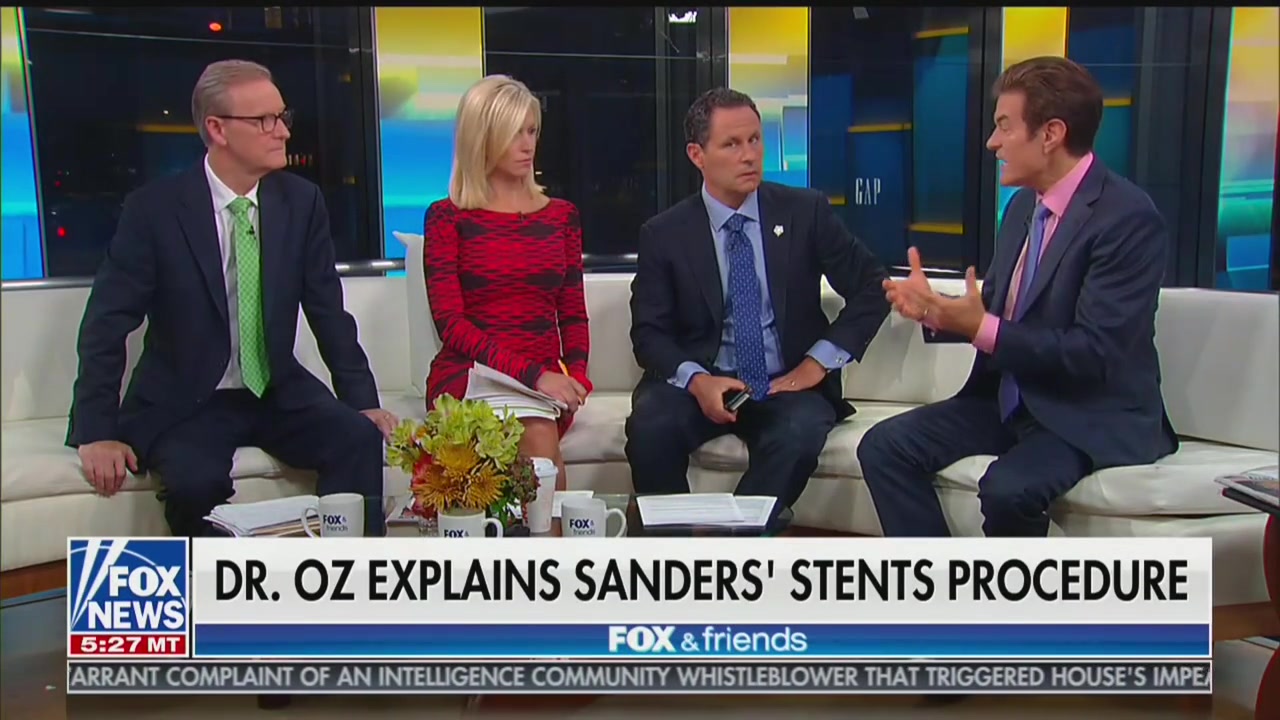 Fox & Friends hosted Dr. Mehmet Oz on Thursday to discuss Senator Bernie Sanders' health. Sanders is taking time away from the presidential campaign trail after having had stents put in an artery. The Fox News hosts repeatedly tried to get Oz to say something negative about the Vermont senator's health, but the TV doctor wasn't having it.
Oz, who has interviewed Sanders, explained the situation calmly and talked down any suggestion that his previously blocked artery could become a serious problem.
"As a young man he was a big runner," Oz said. "And then, of course, Tuesday night he developed chest pain. And he probably did not realize he had a heart problem ahead of time. I've gotta say when you get into your 70s, as the four leading candidates for president, three other Democratic candidates are, it becomes pretty common to have artherosclerosis."
The hosts seemed bemused, even bored, as Oz explained the procedure with an animation.
"There's a 95% chance that he will not have another problem with this stent in the next year. And that's about, roughly that percentage every year," Oz said.
"But if you have blockage in one area, do you have blockages in others?" Steve Doocy asked.
Oz dismissed his concerns, going on to say "I think it's a wonderful thing that Senator Sanders is doing well after the stent."
"He's 79-years-old!" Brian Kilmeade interjected inaccurately, but Oz was not concerned about the Senator's age.
"He's 78-years-old and he's strong and his heart muscle, apparently, is fine," Oz said.
At one point, Brian Kilmeade knowingly looked to camera as Oz explained away his concerns about Sanders' health. All three hosts seemed bemused and even disappointed that Oz hadn't given them more to work with.
"We wish him the best," Ainsley Earhardt said at the end of the segment.
Watch the video above, via Fox News.