'Morning Joe' Guest: Trump Is 'Drowning in His Lies' And 'Focusing 100% on Conspiracy Theories'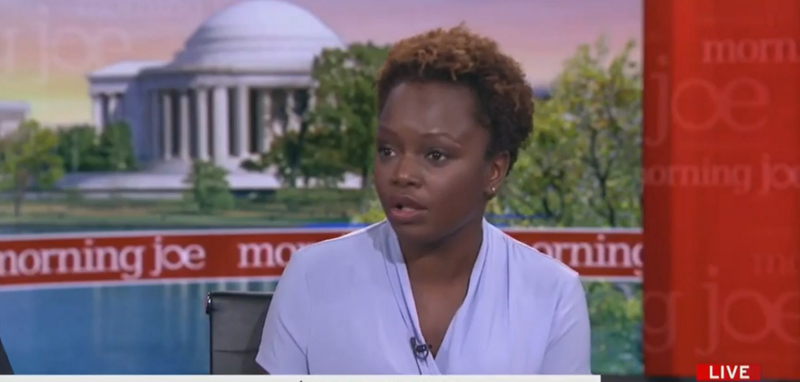 Following President Trump's press conference meltdown on Wednesday, MSNBC contributor Karine Jean-Pierre offered her assessment of a President obsessed with conspiracy theories designed to protect himself from impeachment.
Speaking on MSNBC's Morning Joe on Thursday, Jean-Pierre was responding to Trump's exchange with a reporter where the President dodged a key question about Ukrainian President Voldodymyr Zelenskyy and former Vice President Joe Biden.
"In that long exchange where the went off talking about money that we give or we give too much money to Ukraine or they're not corrupt and Rob Portman was celebrating him, he never answered that question," Morning Joe regular Wille Geist said.
"Because we all know the answer," Jean-Pierre said. "He's already admitted to it. It's clear as day. We saw it in the whistleblower's report, we saw it from the readout from the call. We all know."
"This is why it's resonating with people because it's a clear-cut case. This is why we're seeing the polling moving so quickly on this. It's only been 10 days, it's not a drip, drip, drip with the polling, it's a really steady flow."
"What we're seeing from this President is someone who is drowning in his lies. That is exactly what's happening. And what he's doing, he can't focus on anything else, he's just focusing 100% on conspiracy theories. This is where this President is right now because he is desperate."
"He knows impeachment is coming his way, or an impeachment inquiry, but he knows impeachment is coming his way. Bill Clinton was able to survive impeachment because he focused on the job. Donald Trump is just digging himself deeper and deeper. Every time he speaks, every time he tweets, he makes the job of Democrats much easier and he makes it harder for Republicans."
Watch the video above, via MSNBC.