Fox's Judge Napolitano Shoots Down Biden-Ukraine Conspiracies: 'No There There'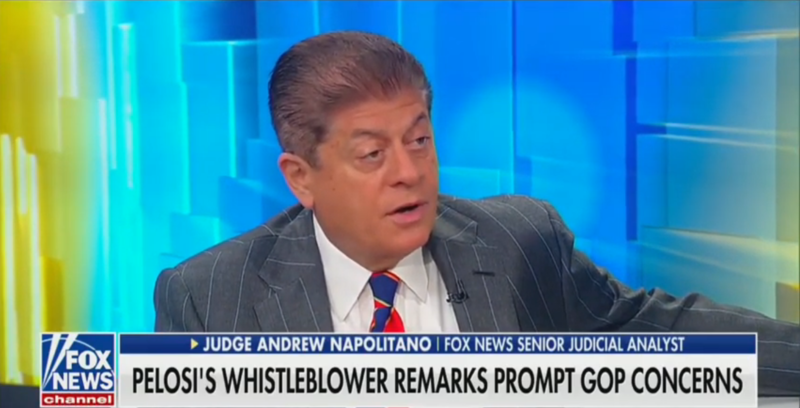 Judge Andrew Napolitano told Fox & Friends on Tuesday that there is no evidence against former Vice President Joe Biden and his son, Hunter. The Fox News senior judicial analyst rejected the conspiracy theory about the Bidens that President Donald Trump and his surrogates have been pushing for days.
Napolitano discussed the claims that the rules for whistleblowers had been changed to facilitate the complaint against President Trump, a story that has already been debunked after making the rounds in conservative media. Napolitano cleared up the issue for the co-hosts, who had also been pushing it.
"What happens with Joe Biden and his son? Are they going to open that up investigation on both of them?" Ainsley Earhardt asked.
"You know, it depends on who you talk," Napolitano said "If you talk to Rudy Giuliani, he has a lot of evidence of inappropriate behavior by the former Vice President and his son. Yet, the prosecutors in Ukraine and even prosecutors here in the United States say there's no 'there' there."
Various Fox News personalities have embraced the theory that the former VP pressured Ukraine to fire prosecutor Viktor Shokin because Shokin was investigating corruption at Burisma, the company Hunter Biden worked for. This is untrue, however. The international community, including the U.S. government, saw Shokin as corrupt and wanted him removed.
A clear division has emerged at Fox News between those who see the President's actions as troubling, like Napolitano, and those who are working hard to defend him, including by spreading baseless allegations and repeating White House talking points.
Watch the video above, via Fox News.