Newt Gingrich: Joe Biden Is 'Gonna Get Clobbered' by Pelosi's Ukraine Inquiry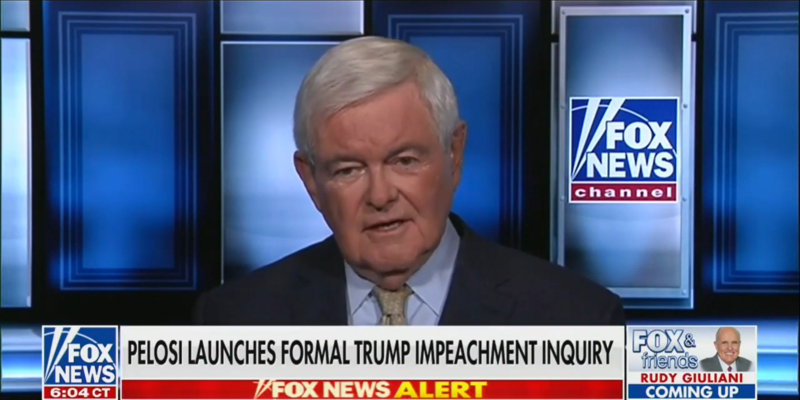 Former Speaker of the House Newt Gingrich told Fox & Friends on Wednesday that the only people who'll be in trouble because of the Ukraine inquiry are former Vice President Joe Biden and his son, Hunter. The former senior Republican claimed an impeachment inquiry would find that the Bidens had acted corruptly.
"I think in the long run historians will think that this is the theater of the absurd," Gingrich said, before deflecting to President Donald Trump's recent speech on religious liberty, which was much hyped by conservatives.
"And, yet, he's surrounded, basically, by a Democratic Party which has lost its mind," Gingrich said. "Nancy Pelosi — think about what you're watching, this is the infantile stage of liberalism, which was also matched yesterday by a 16-year-old addressing the United Nations as though she knew something."
"Nancy Pelosi hasn't seen the transcript, hasn't interviewed the whistleblower, has no new information and furthermore when she starts an investigation of the Ukraine, the person who that's gonna get clobbered is Joe Biden."
"If you look at Hunter Biden, his son, both in China and in Ukraine, what you're looking at is a case study in corruption. And so, Nancy Pelosi should have announced an investigation. She said nobody is above the law. Well, does that include the front runner in her own party?"
"Notice what the argument is.  The President says, gosh, to a brand new anti-corruption reformer, which is what they have now in the Ukraine."
Gingrich went on to misrepresent the situation in Ukraine and the dismissal of a former prosecutor who was accused of corruption. This tactic is becoming common among Trump's supporters as they struggle to defend the President and try to incriminate Biden.
"So I think what Pelosi is doing is opening up a can of worms and the largest worms are gonna be Hunter and Joe Biden, not Donald Trump," Gingrich said.
Watch the video above, via Fox News.