'Don't Gaslight Us!' Chuck Todd Goes at It With GOP Senator on Ukraine and Biden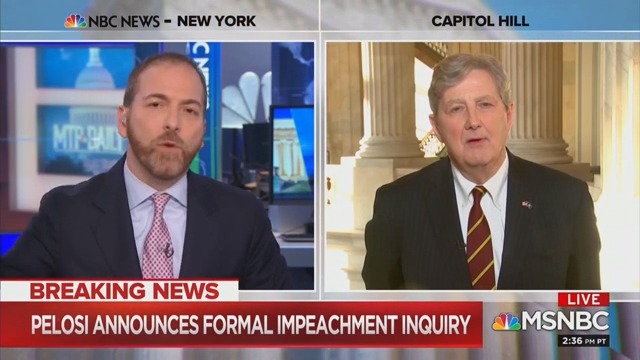 Moments after House Speaker Nancy Pelosi announced on Tuesday that the House was moving forward with an official impeachment inquiry of President Donald Trump , MSNBC anchor Chuck Todd found himself in a contentious and fierce exchange with Sen. John Kennedy (R-LA) in which the Meet the Press host accused the GOP lawmaker of "gaslighting" his audience.
"Do you think whataboutism—how does that have anything to do with the president of the United States going to another world leader and saying, open an investigation up on my chief political rival?!" Todd shot back.
After Kennedy claimed that it has to do with "Ukranian corruption," the MSNBC anchor let out a soft chuckle, retorting: "I am trying to be fair here, but you can't gaslight us, sir. Don't gaslight us!"
Read the rest of the piece at The Daily Beast.
Watch the clip above, via MSNBC.