'Fox & Friends' Interviews 'Andrew Yang Fan' Who's A Conservative Trump Voter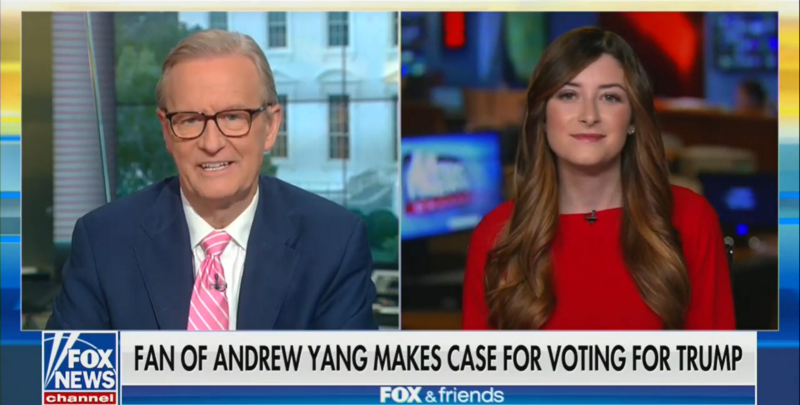 Fox & Friends ran a segment Monday morning designed to attack Democrats and praise President Donald Trump. Co-host Steve Doocy interviewed Kassy Dillon. Dillon is a conservative Trump supporter who was misleading described as a fan of Democratic presidential candidate Andrew Yang.
Dillon, who voted for Trump in 2016 and has a verified Twitter account, used her supposed fondness for Yang to criticize the other Democratic candidates. It was clear she never took Yang seriously as a political candidate but was willing to deploy him to boost Trump.
"Democrat Andrew Yang and his epic dance moves right there inspiring our next guest who'is a big fan but she will not vote for him for president because she is going to vote for President Trump in 2020," Doocy said.
"She tweeted about it and it's getting a lot of attention. She tweeted, quote: 'Here's the things I'm voting for Trump but I won't be friends with Trump. I'm not voting for Yang but I'd definitely be his friend. The President weighing in tweeting, quote: 'I'm OK with that!'"
Dillon praised Trump as soon as she as Doocy gave her an opening. Throughout the interview, the chyron described her as a 'fan of Andrew Yang.'
"Look at the Supreme Court. Looking at moving the embassy in Israel. Look at all these different foreign policy achievements he's made. While I don't like some things he tweets or says, I do want to vote for him."
Dillon went on to make a series of disingenuous comments about Yang and the other Democratic candidates.
"Well, Andrew Yang is just a fun guy," Dillon said. "I feel like a lot of the Democrats are trying way too hard. For instance, Beto O'Rourke, he has to act like a high school skater boy just to get attention and they're just trying too hard."
"Andrew Yang dances after his rallies. He's just having fun. I do believe he is a genuine person. When it goes to the President, I think a lot of people agree with me. They know he has this rhetoric but it's so important to vote for him because they like his results. Especially the religious community."
It quickly became clear that Fox News was presenting the segment in bad faith. Dillon had not and apparently will not consider voting in Democrat in 2020. This is not the first time Fox News has presented someone as a supporter or 'fan' of Democrats who subsequently turned out to be a critic.
Watch the video above, via Fox News.