WH Alters Official Hurricane Forecast Map to Say President Was Correct Dorian Could Strike Alabama
Over the last three years, there has been a rash of people comparing the Trump administration to the world of George Orwell's 1984. This is a poor comparison. While the Party in 1984 at least put some effort into making its propaganda, the White House under Donald Trump is too lazy.
Thus we have spectacles like this press gaggle in the Oval Office on Wednesday in which this happened:
Oh my god Trump had a map produced showing a fake extended NHC forecast showing #Dorian hitting Alabama https://t.co/Rd0sFRELL7

— Jon Passantino (@passantino) September 4, 2019
The President of the United States altered a National Hurricane Center map with a sharpie to falsely extend the official forecast toward Alabama so he didn't have to admit he was wrong in a tweet. https://t.co/i0CJcYV4yq pic.twitter.com/pR57IL6WfT

— Dennis Mersereau (@wxdam) September 4, 2019
Let's go through this from the beginning.
That NHC forecast was issued on Thursday, August 29. It showed Dorian crossing the Bahamas and making landfall in Florida before dissipating: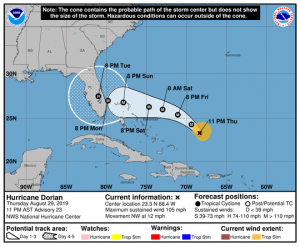 By the time Trump visited FEMA headquarters on Sunday, September 1, for a briefing on preparations for the hurricane, the forecast had changed. Now the storm was expected to make a right turn and head up the East Coast. This new forecast did not stop Trump from incorrectly claiming, both from the White House lawn and on Twitter, that Alabama was about to get walloped:
In addition to Florida – South Carolina, North Carolina, Georgia, and Alabama, will most likely be hit (much) harder than anticipated. Looking like one of the largest hurricanes ever. Already category 5. BE CAREFUL! GOD BLESS EVERYONE!

— Donald J. Trump (@realDonaldTrump) September 1, 2019
He was so egregiously wrong that the National Weather Service office in Birmingham, Alabama, sent out a tweet 20 minutes later correcting Trump's false statement:
Alabama will NOT see any impacts from #Dorian. We repeat, no impacts from Hurricane #Dorian will be felt across Alabama. The system will remain too far east. #alwx

— NWS Birmingham (@NWSBirmingham) September 1, 2019
On Monday, after various reporters, including Jon Karl of ABC, dutifully noted that Trump had been wrong about Alabama, the president again took to Twitter to declare himself right and the media wrong:
Such a phony hurricane report by lightweight reporter @jonkarl of @ABCWorldNews. I suggested yesterday at FEMA that, along with Florida, Georgia, South Carolina and North Carolina, even Alabama could possibly come into play, which WAS true. They made a big deal about this…

— Donald J. Trump (@realDonaldTrump) September 2, 2019
….when in fact, under certain original scenarios, it was in fact correct that Alabama could have received some "hurt." Always good to be prepared! But the Fake News is only interested in demeaning and belittling. Didn't play my whole sentence or statement. Bad people!

— Donald J. Trump (@realDonaldTrump) September 2, 2019
Original forecasts did not have Dorian putting any "hurt" on Alabama. And again, by the time Trump was publicly making those statements, he was relying on two-day old forecasts that had since been put aside in favor of new data predicting the storm would head north. He was wrong, plain and simple.
Fast forward to Wednesday in the Oval Office, when Trump held a blowup of what appeared to be the NHS chart from Thursday. Only now either Trump or someone on his team appeared to have used a black Sharpie to scribble an extra half-circle on Dorian's projected path in a half-assed effort to make it look as if the NHS had in fact been predicting the hurricane could hit Alabama: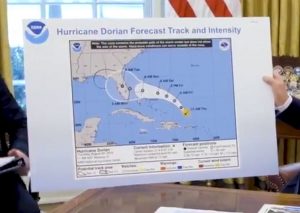 Rather than admit the reality that Trump was wrong, the White House simply tried to change reality. And did a really lazy job of it.
Asked about the marked-up map later, Trump offered a non-denial:
A reporter just now asks about the map Trump showed in the Oval Office today, which looked like the president may have used a Sharpie to draw a circle to intersect Alabama.

Trump … doesn't say no.

"I don't know. I don't know. I don't know," he says.

— Felicia Sonmez (@feliciasonmez) September 4, 2019
Also, as writer Dennis Mersereau pointed out, this change to the NHC chart could be illegal:
Whoever knowingly issues or publishes any counterfeit weather forecast or warning of weather conditions falsely representing such forecast or warning to have been issued or published by the Weather Bureau, United States Signal Service, or other branch of the Government service, shall be fined under this title or imprisoned not more than ninety days, or both.
Just add it to the articles of impeachment.