News Network Praised By Trump Misspells Name Of Cop In Eric Garner Death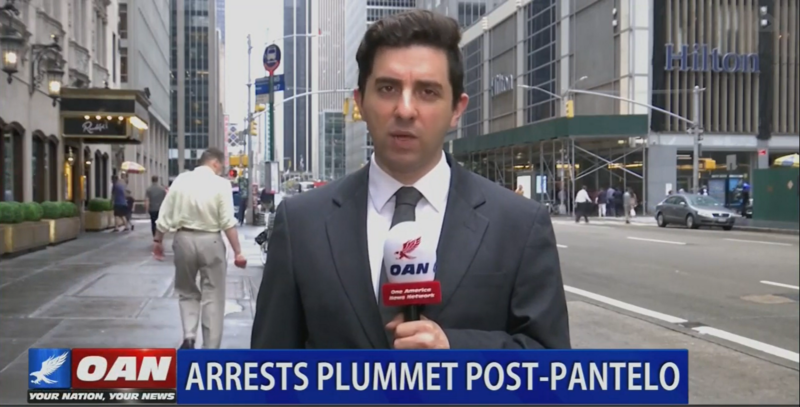 A news network that has received praise from President Donald Trump made an elementary error during a broadcast on Thursday. One America News (OAN) has been well-received by the President for its positive coverage of his administration. The conservative outlet is aiming to rival Fox News.
On Thursday morning, OAN ran a segment about the firing of New York police officer Daniel Pantaleo. Pantaleo was held responsible for the death of Eric Garner and was fired from his job. However, some New York police officers are now claiming that his firing has made it more difficult to do their jobs.
The short report on OAN carried a chyron where Pantaleo's name was misspelled as 'Pantelo'. The chyron was not corrected during the report, despite the fact that the OAN reporter on the scene pronounced the officer's name correctly.
The chyron read 'Arrests plummet post-Pantelo' as the report claimed that there had been a 'dramatic fall' in both arrests and subpoenas. This story has also featured on Fox News, though they did not make the mistake with Pantaleo's name.
Though this may seem like a relatively minor error – and Fox News has made many similar mistakes – OAN is aggressively competing for the same market as the conservative news giant and failing to get basic facts right is not a good indication.
The segment also featured two separate spellings of Pantaleo's name that appeared on screen at the same time. Considering the sensitivity surrounding the story, it is surprising that greater care was not taken to get the basics right.
OAN's coverage frequently looks amateurish compared to the more polished approach of Fox News. In particular, its graphics department appears to be sub par and its scripting can be wooden. Nonetheless, President Trump has increasingly highlighted the network on his Twitter feed.
Watch the video above, via OAN.