Asked About Trump Boosting Epstein Conspiracies, Kellyanne Conway Whines About Russia Investigation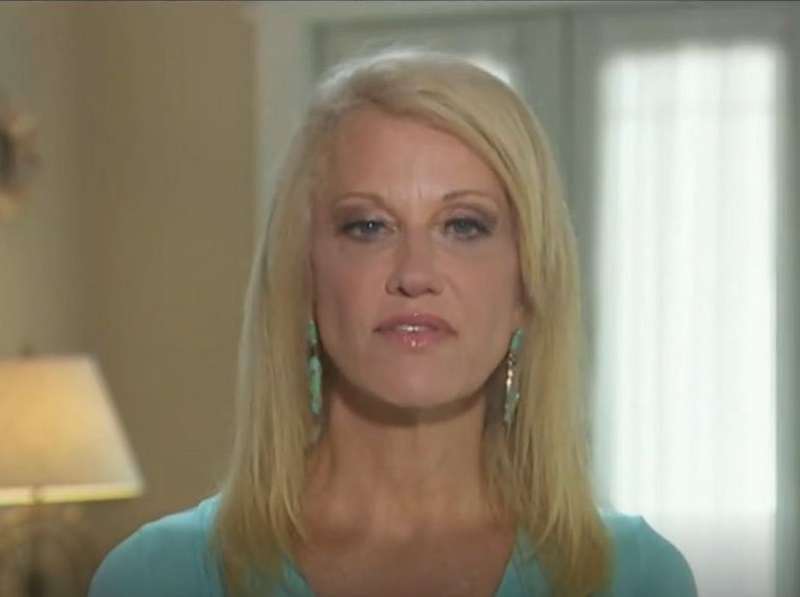 Kellyanne Conway managed to turn a question about President Trump's pushing conspiracy theories about the death of Jeffrey Epstein into a sneer about the Russia investigation during an interview on Fox News Sunday.
Fox anchor Bill Hemmer had asked Conway why the president retweeted a conspiracist arguing with zero evidence that Bill and Hillary Clinton had something to do with Epstein's death. Conway responded that Trump "just wants everything to be investigated" before trying to turn it around with a "gotcha!" moment aimed at planting in the public's mind — again — that the Russia investigation turned up absolutely nothing that implicates the president and his staff:
"I will say that there's always this rush to — we need transparency, we need accountability when it involves fictional accusations like collusion with Russia to swing an election. This seems to be very concrete in that Jeffrey Epstein has done some very bad things over a number of years."
Of course Robert Mueller's investigation turned up a great deal of information about members of Trump's team accepting or actively encouraging Russian efforts to steal and release information that helped Trump in his campaign against Hillary Clinton, as well as multiple efforts by the president to obstruct the investigation into those efforts. Multiple people were indicted for various crimes related to those efforts.
Conway's comment that Trump "just wants everything to be investigated" is essentially the same excuse Trump himself gave for demanding investigations of, among other things, Barack Obama's birth certificate, whether the Obama administration had "his wires tapped" in Trump Tower during the 2016 election, allegations of some sort of "Deep State" working to keep him from winning the presidency and, after his election, trying to pull off a "coup" against him, and innumerable other instances of paranoia emanating from the Trump White House.
In other words, "he just wants everything to be investigated" is conspiracy theorist shorthand and a reasonable-sounding excuse for sneaking into the mainstream just the sort of unfounded accusations against the Clintons that Trump was pushing out to his millions of Twitter followers.
It takes remarkable chutzpah to say Trump wants everything investigated, then spend months disparaging and ignoring the results of that investigation.
Watch the clip above, via Fox.