MSNBC's Rick Tyler: Trump Wants Sympathy For Himself, Not Shooting Victims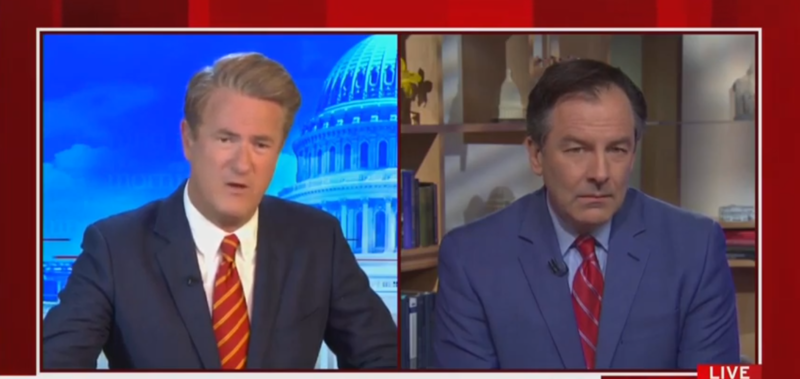 MSNBC's Morning Joe kept up its criticism of President Donald Trump for a third day Wednesday following mass shootings in Dayton, Ohio and El Paso, Texas. Host Joe Scarborough was not impressed by a Trump tweet telling former Texas Congressman Beto O'Rourke to 'be quiet'.
Scarborough asked MSNBC political analyst Rick Tyler his thoughts on Trump's response to the shootings.
"I could ask you if you ever worked for any politician who was ever this shallow, who was ever this devoid of humanity, who would have ever responded in the face of tragedy, talking about crowd sizes or political polls but I already know, the answer is no. This man, as Jeffrey Goldberg says in the Atlantic, is only getting worse."
"I certainly wouldn't, Joe, and I think it was yesterday or the day before Donald Trump sent out a tweet," Tyler said.
"He was complaining about the comparisons or that he was taking the blame for these shootings where other presidents were not."
"But I want people to think about this, how sickening it is that while people are suffering and burying their loved ones and grieving and others in the Hispanic communities are fearful for their lives, Donald Trump wants to be the number one victim."
"He wants more sympathy for himself as opposed to the suffering that people are going through, which makes his visit to both Dayton to El Paso today completely inappropriate because the President has no capacity to display empathy, to say the right things that people believe."
"We all watched his speech the other day, but it just doesn't reconcile with what he said," Tyler went on.
"If you juxtapose what he said in the speech, which the content was fine, but it didn't come from the heart. He just read it. We know Donald Trump and what his heart speaks of, and we see those in the rallies, in his tweets, in his offhanded remarks, his hurtful things, the racist things that he says, and so his visit today is really counter productive."
"Now, he'll try to go through it the best they can, but, you know, people have expressed outrage that he's even daring to come, particularly in El Paso, and I would say this about El Paso, because of all the things you mentioned about the Hispanic invasion, things he said about invasion. This one's on you, Mr. President. You own it."
Watch the video above, via MSNBC.