Kentucky Police Say A Protest At Mitch McConnell's Home Was Peaceful. Tomi Lahren Disagrees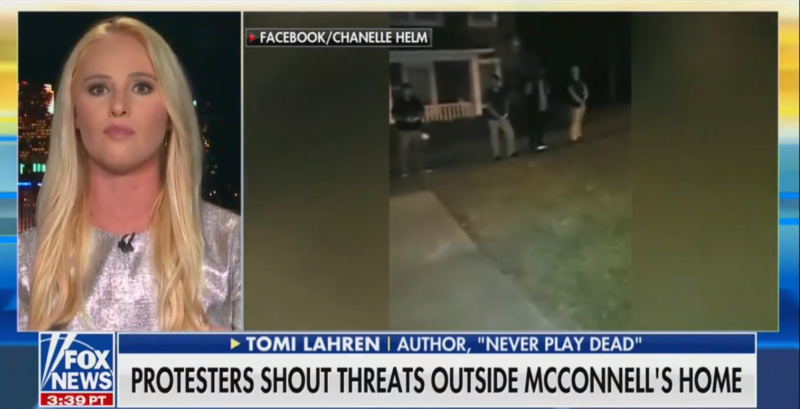 While other major cable news networks were still discussing the mass shootings in Texas and Ohio on Wednesday, the folks at Fox & Friends decided to highlight what they saw as another serious issue: a protest outside Senate Majority Leader Mitch McConnell's house.
The Fox hosts showed footage of the protesters, who were shouting at McConnell's house and commenting on his recent accident. While the protesters could certainly be described as loud and possibly vulgar, police in Louisville, Kentucky concluded they were peaceful. This wasn't good enough for Fox & Friends regular Tomi Lahren.
"Tomi, according to the Louisville police, the demonstrators were protesting peacefully. How peaceful does that look to you?" co-host Steve Doocy asked.
"Well, it didn't sound or look peaceful at all," Lahren said. "What I heard in that sound bite, which I'm sure you heard as well, seemed to me like credible threats. Not only is it despicable what I see here is something called liberal privilege."
"That's the misguided belief that those on the left can attack and harass anyone on the conservative side, anyone who is Republican, anyone who is a Trump supporter because they believe they have the moral authority to do so."
"And you don't see Democrats coming out and condemning this behavior, condemning behavior of Antifa or anybody who harasses conservatives. After a week of tragedy in this country, it's absolutely horrific to see something like this happen."
The Fox Nation struck her usually outraged and belligerent tone while sticking to some of her favorite talking points. Lahren stopped short of comparing the protest to the recent mass shootings but implied a moral equivalence between the shooters and the protesters.
"I'm sure there is definitely anger on both sides," she said. "And there's definitely people on both sides who have wrongdoings to their name and to their credit. But the fact that we haven't had Democrats come out and say this is unacceptable."
Watch the video above, via Fox News.