Nikki Haley's Rebuke of Gleeful Trump Tweet About Cummings Break-In Draws Defensive White House Response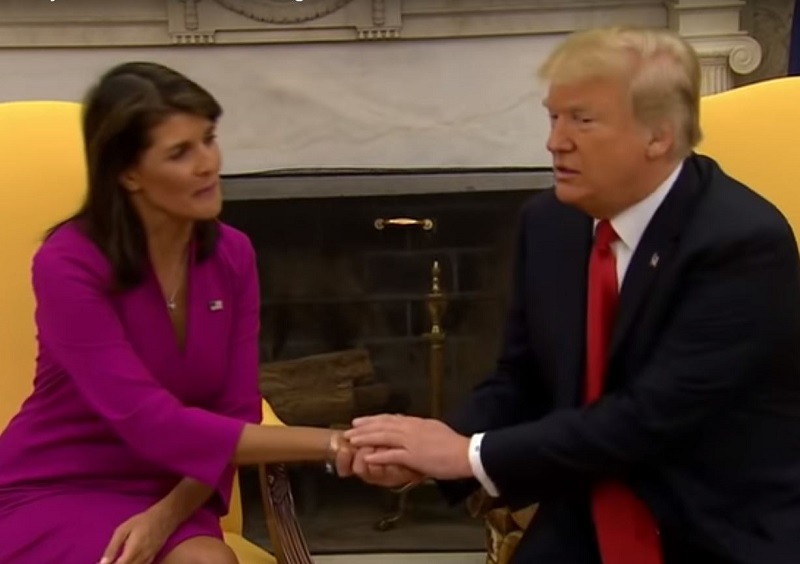 Donald Trump's former ambassador to the United Nations Nikki Haley is trying to have it both ways in navigating the rocky shoals of Donald Trump's racist attacks on Rep. Elijah Cummings and the city of Baltimore.
Earlier this week, Haley had tried to insert herself into the conversation with a tweet that (probably unintentionally) mimicked a bit from Monty Python and the Holy Grail:
Instead of all of this back and forth about who everyone thinks is racist and whose not, the President just offered to help the people of Baltimore. They should take him up on it. Let's put the same energy into where it will make a difference. 🇺🇸

— Nikki Haley (@NikkiHaley) July 30, 2019
There are a couple of issues here. One is that Trump did not offer to help Baltimore aside from telling the leaders of the city that when they get sick of their longtime congressional representative, they should give the president a call. What Trump is ignoring is that as president, everyone in Baltimore is also his constituent. If he really thinks he could do something to help the city solve some of its problems, he would just do that.
Haley is assuming that Trump's criticism of Cummings and the city he represents was in good faith. In fact, it was just Trump venting about a political opponent whose congressional committee had just subpoenaed the email records of administration officials, including his daughter and son-in-law.
The other issue is that Haley is trying to deflect from Trump's obvious racism that the president refuses to acknowledge. That is a big hurdle to tell people they should just get past. But she likely didn't want to insult her former boss, whom she has promised to campaign for in 2020.
Three days later, Trump tweeted his glee that someone had tried to break into Elijah Cummings' house in Baltimore last week. Haley, having scolded others for getting mad at Trump's racism earlier in the week, now very mildly rebuked her former boss:
This is so unnecessary. 🙄

— Nikki Haley (@NikkiHaley) August 2, 2019
Which led to this response from White House Counselor Kellyanne Conway:
THIS is so unnecessary
Trump-PENCE2020 https://t.co/wopDdCWRwR

— Kellyanne Conway (@KellyannePolls) August 2, 2019
As campaign slogans go, it needs some work. But Conway's the professional.