Trump-Supporting Fox News Hosts Mock Joe Biden For Lack Of Detailed Plans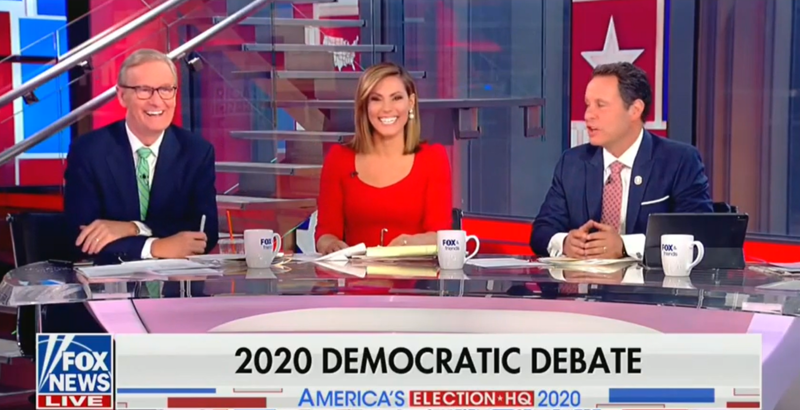 The first Democratic debate is over but there's another one Thursday night and the big news networks are already talking about it. On Fox News, the first debate has been treated with derision, while the second is already in the cross hairs. Fox & Friends launched a predictable attack on the front runner Thursday morning.
Griff Jenkins reported from outside the scene of the upcoming debate.
"If you just look over my left shoulder here can you see Biden's supporters have already turning out here," Jenkins said. "They've been here since early this morning. I asked them, I said, what do you hope to hear from Joe Biden tonight on the stage when the second group of the candidates take over?
"They said they want to hear more how these candidates, in particular Joe Biden will reunite the country. They said they didn't hear enough of that last night."
"Joe Biden can't do what he has  done out on the stump so far a number of times," co-host Steve Doocy said.  "That is – somebody will ask him a question. He'll say, well I'm for it and l'll have further details later."
Doocy's co-hosts laughed loudly at his joke.
"We need the details!" Lisa Boothe said, continuing to laugh.
"He's always teasing the next segment," Brian Kilmeade said.
"Maybe it's smart," Boothe said.
"Maybe," Doocy agreed.
Fox & Friends have been unambiguous cheerleaders for President Donald Trump, whose grasp of policy details is famously poor. He has rejected intelligence briefings, made vague promises that haven't been fulfilled and shown a lack of basic knowledge on how the US government works.
Watch the video above, via Fox News.