Steve Cortes: Border Detention Camps Aren't Concentration Camps Because Migrants Aren't US Citizens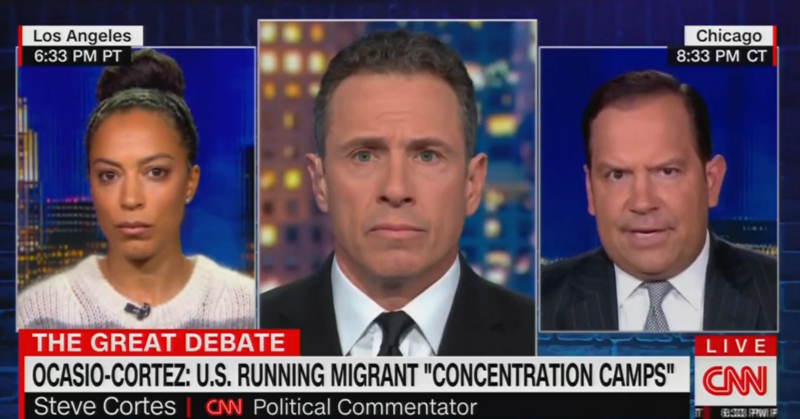 Conservative outrage about Alexandria-Ocasio Cortez' concentration camp comments continued on CNN Tuesday night. The freshman Democratic congresswoman compared migrant detention camps on the southern border to concentration camps, leading to right-wing outrage.
Steve Cortes told CNN's Chris Cuomo that Ocasio-Cortez should apologize and resign before making a bizarre argument defending the camps.
"We know what the connotation of concentration camps is," Cortes said. "If we went on the streets and asked the definition, they would give us a definition of Nazis.
"She very much demeaned the victims of that horrific tragedy. She also demeaned the American soldiers that smashed the evil perpetrators of that human tragedy. I would also add this. She also demeaned the current American citizens, many of whom are Hispanic, who do the very hard and dangerous work of guarding our borders. She equated them by association to Nazi SS guards and that is disgraceful. She should apologize at the least and probably resign."
CNN guest Angela Rye pushed back against Cortes' comments and claimed that the current policy toward migrants is a product of racism,
"That's completely untrue," Cortes said, arguing back and forth with rye.
"These are not American citizens," Cortes said.
"You're going to justify this by what citizenship these people have? That's sick, Steve," Rye responded.
Watch the video above, via CNN.